Cutting a small fruit like an orange is easy. But cutting a large fruit like a watermelon is a different story. The skin is thick and the size means you need a sharp and long knife that can slice through the whole fruit cleanly. If you use a small knife, you won't get a smooth cut and the slices will appear uneven. Apart from the not so presentable appearance, it is also a struggle to cut a watermelon with the wrong type of knife. So, which is the best knife to cut watermelon with? Let's find out below.
Kuhn Rikon Original Melon Knife
The Kuhn Rikon Original Melon Knife has an ultra sharp stainless steel blade. But of course, just a sharp blade alone is not enough. It has to be coated with a nonstick coating so that the slices won't stick to the blade each time you make a cut. The handle is ergonomically designed for better leverage and a more comfortable grip.
A matching sheath comes with the knife so that it can be stored securely. It also makes it convenient to pack for campings and picnics. While it is dishwasher safe, hand washing is and air dry is recommended to lengthen its life span.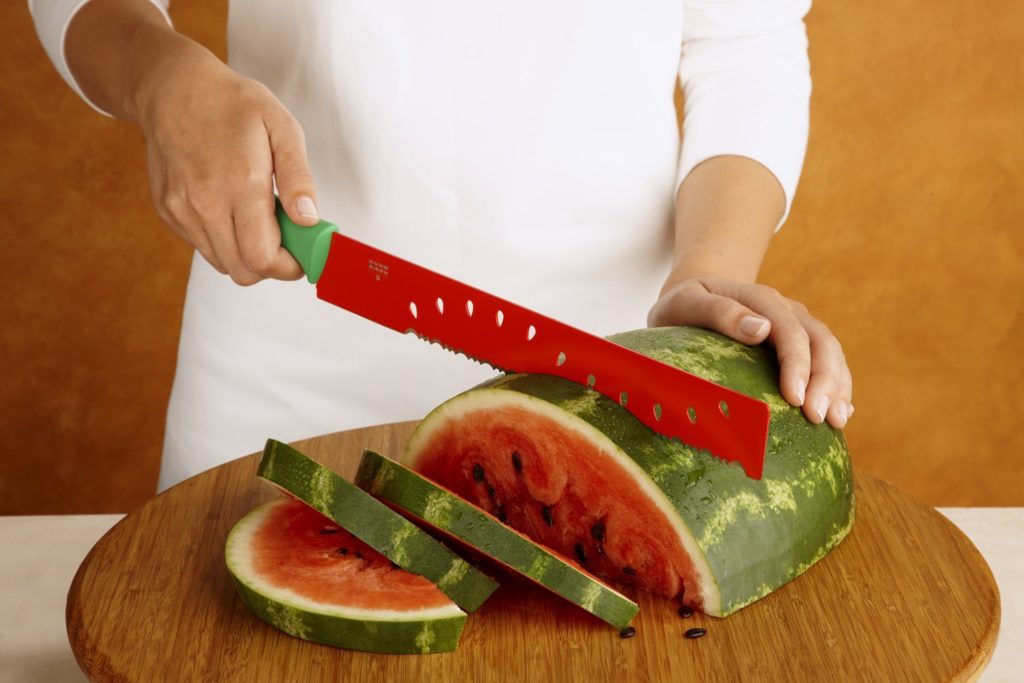 The best reason why you should buy this is because it really makes cutting watermelons effortless on a cutting board. You may not like the look or the color so much but the most important thing is that it works. So, if you are a big watermelon eater, you won't regret buying this. It is probably the best knife for watermelon out there.
The other good thing is the slices do not stick to the blade. Having a sticky blade can be annoying because you will have to remove the cut slice from the blade each time before you cut the next one. So, with this nonstick Kuhn Rikon Original Melon Knife, it makes your task much easier. The seed-shaped holes on the blade also help to reduce the stickiness.
Apart from using it to cut watermelon, this knife is also suitable to be used to cut similar fruits like honeydew and cantaloupe. Some people also use it to cut bread, meat and other types of food.
While most people are happy using this knife, there are also others who find the blade a little hard to control while cutting because it flexes. So, you do have to be extra careful since it is also very sharp. Not everyone will feel comfortable using it due to this potential lack of control. The length of the blade also means storage could be a problem since it may not fit into your kitchen drawer.
But is a knife the best way to handle this thick-skinned fruit? Maybe not. So, let's take a look at another tool below.
Shadmon Watermelon Slicer Knife
A watermelon slicer knife is certainly safer to use compared to a traditional knife. However, you still need to use a knife to cut the fruit up into 2 halves first. Then, you use the slicer to cut up the slices by sliding it through the flesh. Because it is also designed as a tong, each slice that you cut can be easily lifted up and placed onto a serving dish. You can look at the pictures below to see how it works: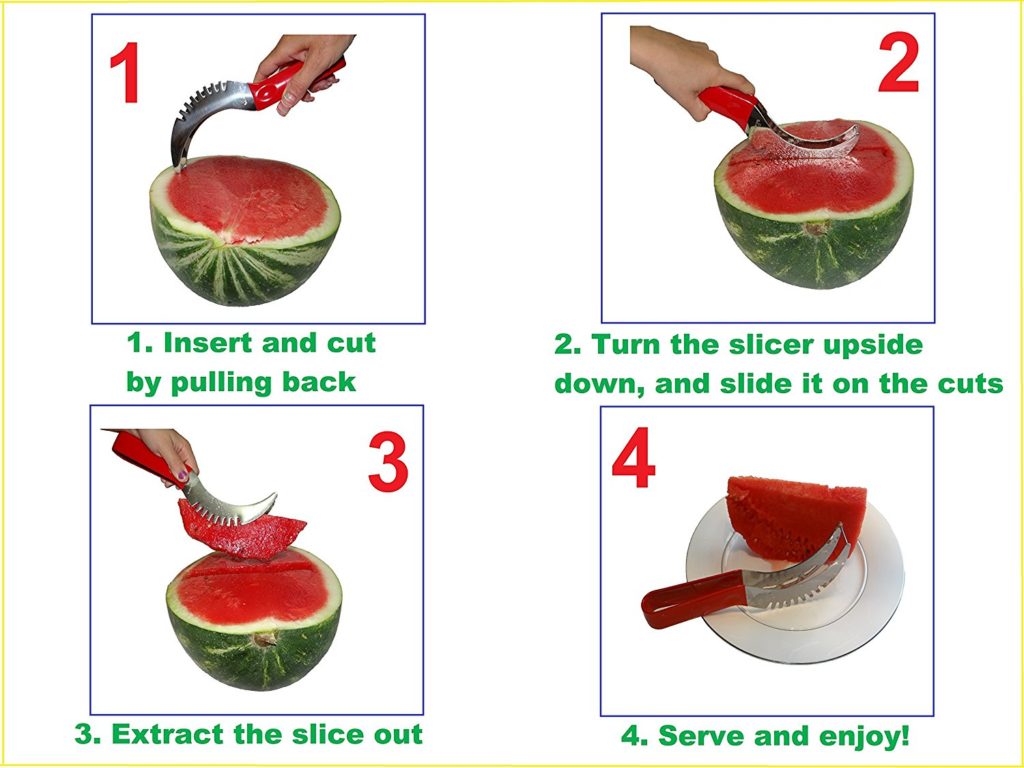 The blade is made of food-grade stainless steel while the handle is rubberised for a more secure grip. The whole design makes this a safe and easy tool to use unlike a knife. The other advantage is there is no rind to mess with when you are eating. This would be great for parties and picnics because there is no rind to discard.
The disadvantage is you still need to start with a knife to cut open the watermelon. So, there is no escaping using a knife. Furthermore, it may be difficult to push the slicer all the way down for a large sized watermelon. The pressure as you slide in to slice and squeeze to lift the piece up also leaves a lot of juice inside the rind. So, not everybody has been able to make it work perfectly.
Knife Or Slicer?
It really depends on the occasion. If you need to serve it without the rind at a party, you will need to use the slicer. But if you are just eating it by yourself, a knife will be faster. In fact, we think a knife is simpler to use, especially if you have the right one to do the job.
Each person will have their own preference. So, to each, his own. Whether you have a slicer or the best knife to cut watermelon, the important thing is it feels safe and is easy for you to use.