Kids always like to mimic what adults do. They also like to play with the gadgets and appliances that you have. That is why toys like smart phones and
mini vacuum cleaners
are popular. So, it isn't any surprise that even an ATM machine can be designed into a toy. Kids are fascinated when they see you withdrawing money from the ATM machine and they too would wish to do the same. Hence, getting them the best toy ATM machine to play with would make perfect sense. On top of that, it is an opportunity to teach them about financial management while they are still young.
Best Toy ATM Machine To Play And Learn
This toy sold by MMP Living is a realistic display of the ATM machine with its silver and black colors.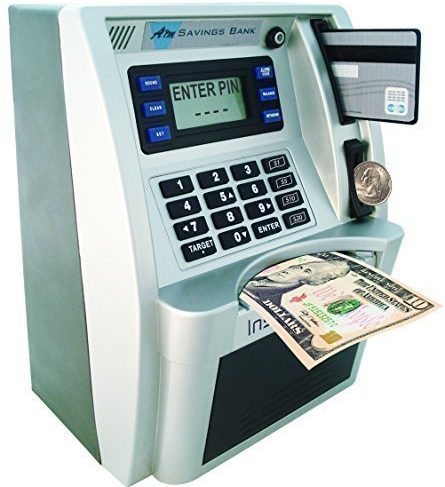 The features of this toy include:
A card with a 4-digit pin
Real time alarm clock and calendar
Motorised bill feeder
Accepts coin deposits
Allows withdrawals
Makes ATM sounds
Lights up
A card is provided and kids can set the pin just like how it works for a real ATM machine. The pin can be changed at any time to make play more interesting. Kids can feed in notes and the toy machine will also be able to recognise coins that are deposited through the slot.
Besides setting a pin code, kids can also set a savings target. The toy will keep a balance which the kids can check from time to time. Withdrawals are also permitted and the bottom compartment will open to allow kids to take out their savings.
The mini ATM nachine requires 3 AA batteries to operate and these are not included. It measures about 6″ (L) x 9.5″ (H) x 7.5″ (W).
Pros & Cons Of This ATM Piggy Bank
The pros of this kids' ATM machine include:
Encourages kids to save – Because kids can set their own savings target, it encourages them to develop the habit of saving. Most piggy banks do not have this feature and only an electronic version can allow kids to set a exact target to achieve.
Works like a real ATM – Although this is only a children's ATM machine, its functions mimic the real thing. With a card and pin to do deposits and withdrawals, it is something that kids can relate to as they watched adults doing the same.
Able to handle notes and coins – This kids' cash machine will suck in the notes when fed though. It can also recognise the coins through their different sizes.
Easy withdrawals – Kids don't have to dig through a small hole at the bottom of a piggy bank to retrieve their savings. This one allows the bottom compartment to be opened for easy retrieval of the funds saved.
Keeps a running balance – Kids don't have to manually count how much they have inside their savings bank. The toy ATM machine will keep a running balance and update accordingly after each deposit and withdrawal.
The cons are:
Can't read the notes – While it can detect the size of the coins, it can't read the value of the notes. So, it is up to the kids to key in correctly how much they are depositing if they are banking in notes.
Doesn't dispense money – Although this is possibly the best toy ATM machine, it still have limitations in terms of withdrawals. It won't dispense money the way a real ATM does by giving you the exact amount requested. It will just unlock the bottom compartment for a kid to take out the money he needs.
Balance can be inaccurate – The accuracy of the running balance is dependent on the data keyed in. So, a $1 deposit keyed in as $10 will cause the balance to register a wrong figure. Similarly, if the withdrawal amount keyed in does not tally with the actual amount taken out, the balance will be off as well.
Should You Buy This Toy ATM Bank?
Basically, this is an "adult" way to get kids to save. Like the moon night light which is both educational and functional, this mini ATM machine also shares the same characteristics. It functions as a toy and money bank but also has educational value with its financial and mathematical concepts. In that sense, it is worth a buy although the price could be on the high side for some. you can check the current price here.
Lastly, although it may be the best toy ATM machine, it may still require parental supervision to take full advantage of its features and educational value, especially for younger kids. Parents need to monitor that the correct amount is deposited and withdrawn to ensure the balance shown remains accurate. So, if you are happy to play together and teach your kids, this is the right toy to get. If not, it will still be an interesting toy for the kids, but the educational aspect may not get fully exploited to the benefit of the youngsters.