Now, you might look at exercise balls in a different way. They are not only for workout routines but you could use one as your office chair. For office workers suffering from bad back, the best balance ball chair may be the answer. With the long hours sitting in front of the computer at work, more and more people are ending up with backaches and sore muscles. This is why the
sit and stand desks
are gaining popularity. But not everyone can afford one due to the high cost. If you can't, you can always look for cheaper solutions and the balance ball chair is one of them.
Best Balance Ball Chair – LuxFit Premium
There are a few balance ball chair brands in the market and LuxFit Premium is one of the best-selling ones. The chair comes with a back rest that measures about 2.5 feet tall. The width is bout 20 inches and it has 4 casters fitted to the legs. The back 2 casters are lockable. These are 2.5-inch casters which allow for better movement compared to smaller ones.
When the ball is inflated, the height of the chair will range from 22 to 25 inches. The actual height will depend on how much air you pump into the ball. The more inflated it is, the higher would be the chair height. The weight capacity is 300 lbs. Both the ball and the pump are included in the box.
Pros & Cons
People think this is the best balance ball chair because it is:
Solid – The ball can withstand a high amount of weight. It doesn't feel flimsy when you sit on it.
Movable – The chair is light and come with casters. This makes it easy to glide it across the floor and push it from one spot to another.
Good for posture – The design of the chair encourages you to sit up straight and be mindful of your posture.
Easy to set up – The assembly is easy and doesn't take long.
Comfortable – Many buyers find the chair to be comfortable and relieves their backaches and stiff backs.
On the other hand, there are also complaints:
No height adjustment – The chair base has no lever for height adjustment like those found in a typical office chair. That means some people will find it to be too low while others too high to their liking, depending on how tall they are.
Backrest is too far back – The backrest is practically useless because you need to sit very far back to be able to make use of it.
Need to spread legs for stability – It is more comfortable if you could spread your legs a little while sitting on this balance ball chair. So, for women who wear tight skirts whereby such movements are hindered, it could be a tad uncomfortable.
Ball leaks – Over time, the ball will leak at the seams. A replacement will be needed which means more money must be spent.
Can A Balance Ball Chair Really Work?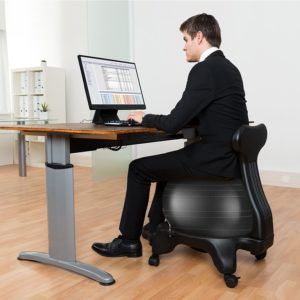 Even the best balance ball chair is no guarantee for a permanent and effective cure for backaches. It works for some but not others. It depends on the nature and severity of your problem.
On top of that, some research have shown that a balance ball chair offers no advantages over a normal office chair. Contrary to popular opinion, the muscles don't get better or stronger by sitting on a ball. There is no conclusive evidence to suggest that the muscles will get a workout doing so. In fact, some people develop backaches from using this type of chair because you tend to sink in when sitting on a ball compared to a normal chair.
So, the jury is still out there whether a balance ball chair is an effective solution for backaches. While some people find no significant improvement to their back problems by using a balance ball chair, others have a different experience . The best is to check it out with your doctor or chiropractor if it is a suitable remedy for your problem.