If you have a baby, you would definitely have plenty of bottles and other stuff to wash and dry. While you can use the normal
folding dish rack
to dry these baby items, it is not very convenient to do so. This is because the design of a dish rack don't allow for the bottles to stand up straight for faster drying and there is no designated space for pacifiers, soothers, breast pump parts and other accessories. So, buying one just for your baby bottles and accessories is a worthwhile investment. But the best baby bottle drying rack should be one that prioritises function over form. Let's take a look at 2 of them below.
Philips AVENT Drying Rack
The Philips AVENT baby bottle drying rack may seem very simple but it can fit up to 8 bottles plus other accessories such as nipples and pacifiers. It has 4 stands with branches for you to place your bottles or hang other accessories.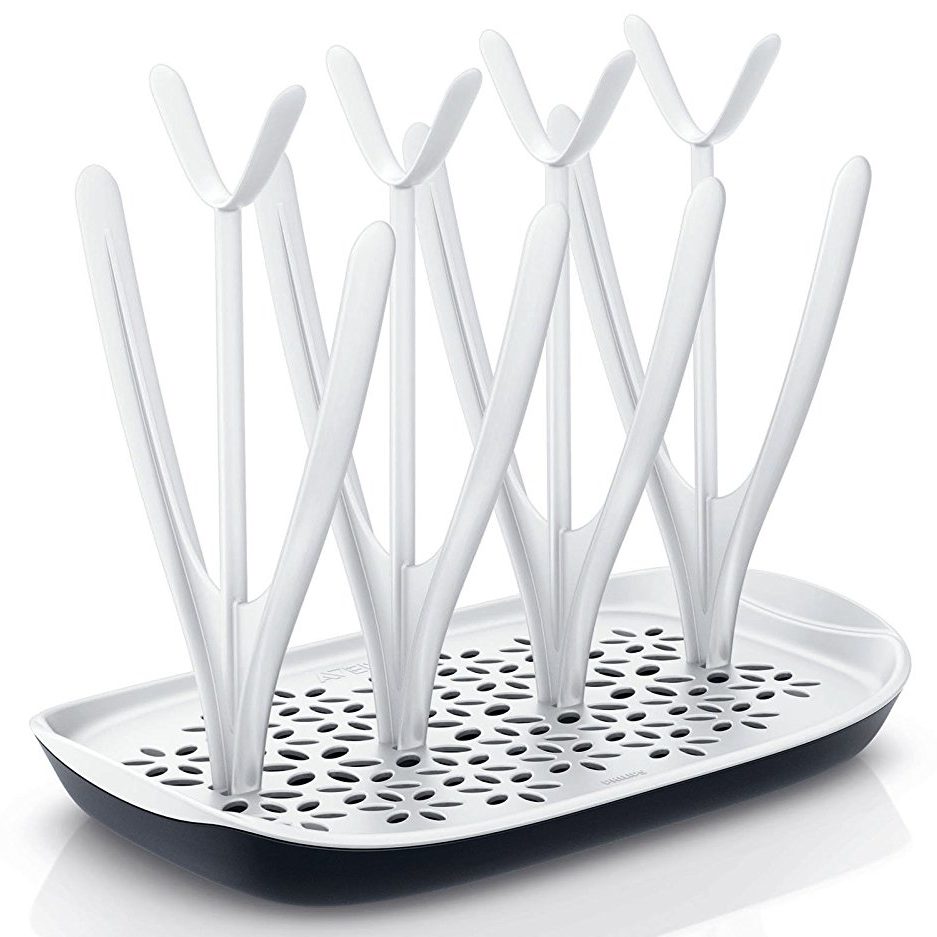 The stands can be removed for easy cleaning and to provide more flexibility for drying different items. There is a detachable drip tray to collect water and for easy disposal of the same. The drying rack measures about 13″ x 8″. With the stands being assembled, it goes up to about 11.5″ tall.
The Good & Bad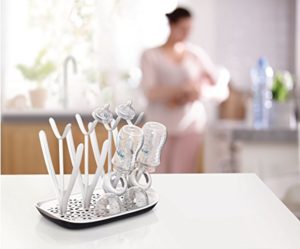 This Philips AVENT drying rack can fit glass bottles too. You won't have a problem of it toppling over although glass bottles are heavier than plastic ones. On top of that, it is also compact in size which helps to save space on the counter top. However, being small does not mean that it can't accommodate many items. It can hold quite a few stuff with its simple design. It is also easy to place bottles and other stuff on it after washing unlike some other drying racks that require delicate balancing to ensure the bottles stay upright.
On the other hand, the complaints are the base could be wider because water from wider bottles could drip onto the  counter. The other issue would be the need to balance the bottles arrangement to ensure the whole rack do not tilt. Small items like bottle nipples might also get knocked off easily from the fork when you bumped into them.
However, the price for this isn't too expensive. The quality is good and it is easy to empty the drip tray and clean the rack. This convenience makes it one of the best baby bottle drying racks given the affordable price.
Munchkin High Capacity Drying Rack
If you are looking for something that has a higher capacity than the Philips AVENT above, then take a look at this Munchkin baby bottle drying rack. It has 2 tiers for more space for your bottles and other accessories.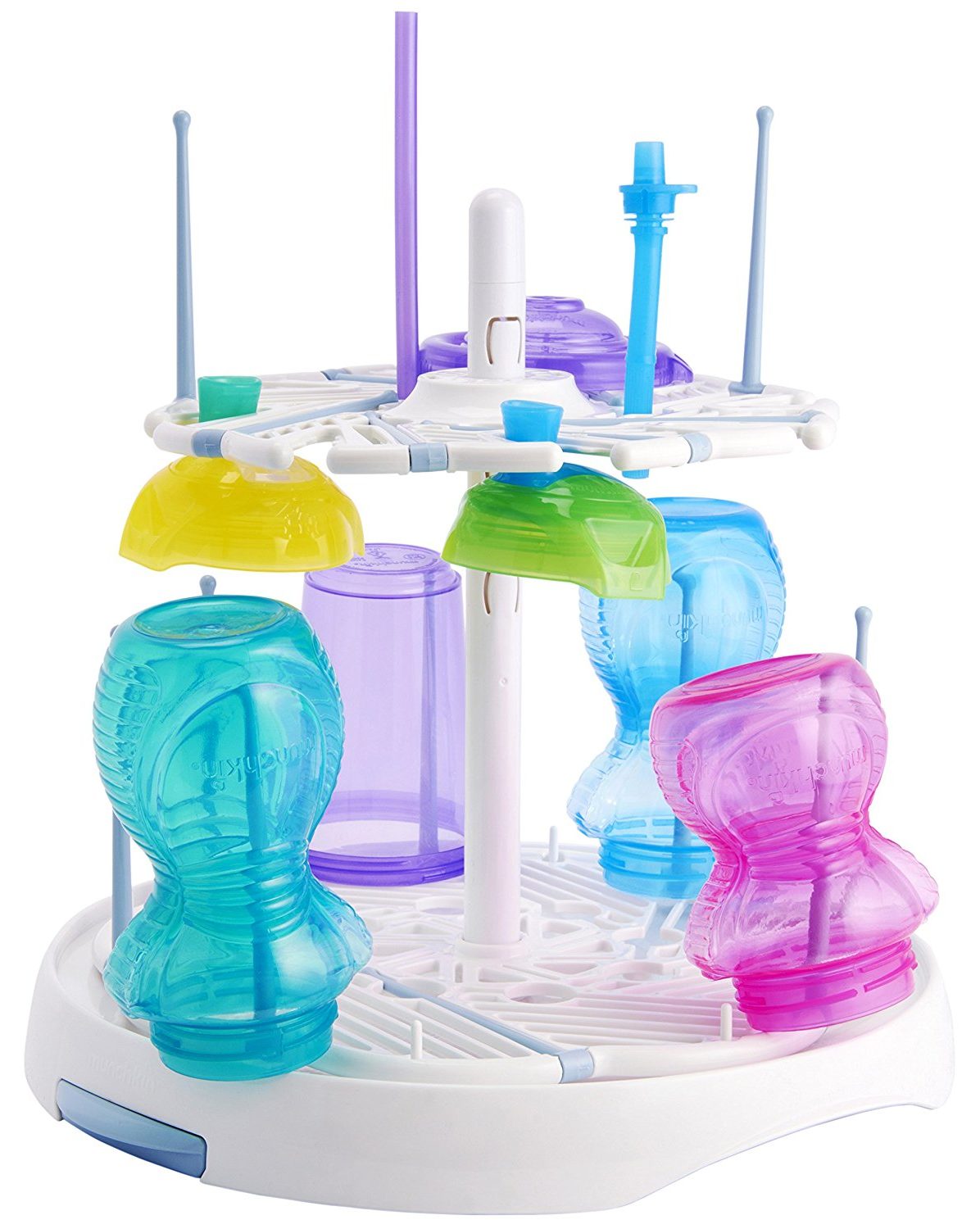 The 2 levels spin to offer easy access all round. Altogether it can hold 16 bottles using pegs that can be folded down for storage when not in use. There are holders for straws, nipples and pacifiers with space leftover for other items as well.
The whole rack is made of plastic and has a removable drip tray that is also reversible. You can use it to catch water to be emptied later or reverse it to let the water drain directly into the sink.
The Good & Bad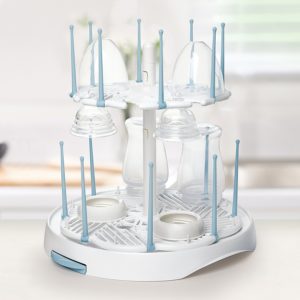 One of the good things about this drying rack is obviously its high capacity. If you have a baby and a toddler at home, you certainly need a drying rack that is able to fit a few bottles, sippy cups, straws and pacifiers among other things. While you need a rack that can fit many items, it can't be too large either to take up valuable counter space. So, the 2-tier design works beautifully to enable high capacity drying with less footprint.
The other practical aspect of this drying rack is the foldable pegs. Not only this makes the whole thing easy to store, it also means you can fold them down to dry bigger stuff. Hence, there is flexibility in the type of items that you can dry with this rack. The rack is also easy to clean.
The drawback is that the pegs could be a little flimsy. So, if you are using it for heavy glass bottles, it might be safer to use only the bottom tier to dry them. The other complaint is that it doesn't spin that well too. You might need to hold the rack to steady it while spinning. This means it could be troublesome when you want to access the other side of the rack.
However, despite all the flaws, many parents still think that this Munchkin rack is the best baby bottle drying rack out there. It is cheap for the number of bottles that it can dry at any one time. It is not super heavy duty but it is good for the price and does the job reasonably well to make it a worthwhile purchase.
What Makes The Best Baby Bottle Drying Rack
Not everyone's need is the same. The amount of baby bottles and items that people need to dry may be different. As such, what might work for you may not work as well for another. For example, some people think that the popular Boon Grass drying rack is superb. But others find it to be too small and is not practical at all.
Therefore, know what you need before you buy. Also, do not be taken in by the visual appeal without considering the practicality of the rack. Some drying racks may look nice in your kitchen but they may be very difficult to clean. As you know, you need to maintain good hygiene for your baby's items and regular cleaning of your drying rack is a must. Therefore, it may make more sense to get one that is easy to maintain than a good-looking unit that takes up valuable time to keep clean.
So, the bottomline is the best baby bottle drying rack is one that can fit all your items, easy to place them for drying, simple to maintain and dries your bottles quickly. You can also look for more drying racks here if the above 2 units don't suit your needs well.