If you often cook at home, a good quality cookware is important. This is because it can heat up faster, retain the heat better and last longer. But apart from the cookware, you will also need a set of cooking utensils to go with it. What type of cooking utensils you should buy would depend on the type of
cookware
that you have. If you have nonstick cookware, then you would need nylon or wooden utensils to avoid scratching the pan's surface. On the other hand, if you have stainless steel cookware, then you can opt for utensils of the same material. Below are the best cooking utensil set for each type.
Best Nylon Cooking Utensil Set
Shown below is the Vremi 6-piece nonstick cooking utensils set. It includes a spatula, baster spoon, slotted turner, slotted spoon, spaghetti spoon and soup ladle.
Made of food grade and heat resistant nylon, these utensils are BPA-free. They are suitable for use with nonstick cookware. The handles have silicone grip and are multi-colored to make it easy for you to identify what you are looking for. The cooking spoons and spatulas also have finger grips on the underside for better control while cooking.
Each kitchen tool measures about 14″ long. They have hanger holes at the end of the handle for easy storage. You can also put them into the dishwasher for faster clean-ups.
One of the great things about this set is its colorful look. Most nylon utensils come in black and grey colors. This set is definitely more attractive and can help to brighten up your kitchen. But apart from its visual appeal, it makes the best cooking utensil set for nonstick cookware due to its sturdiness. They don't feel flimsy and hence, won't bend easily when you need to turn your food while cooking. They are also durable and hold up well during use.
While the handles are comfortable and offer a firm grip, they are on the huge side. This cause the handles to be bulky and difficult to store. So, if you are putting your utensils in the drawer, this could be a potential problem that you should bear in mind before buying.
Best Wooden Cooking Utensil Set
For wooden kitchen utensils, bamboo is highly affordable. The other option is olive wood which can be very beautiful with its natural grain pattern. The set below is by Scanwood which is Denmark's largest wood kitchen utensil manufacturer.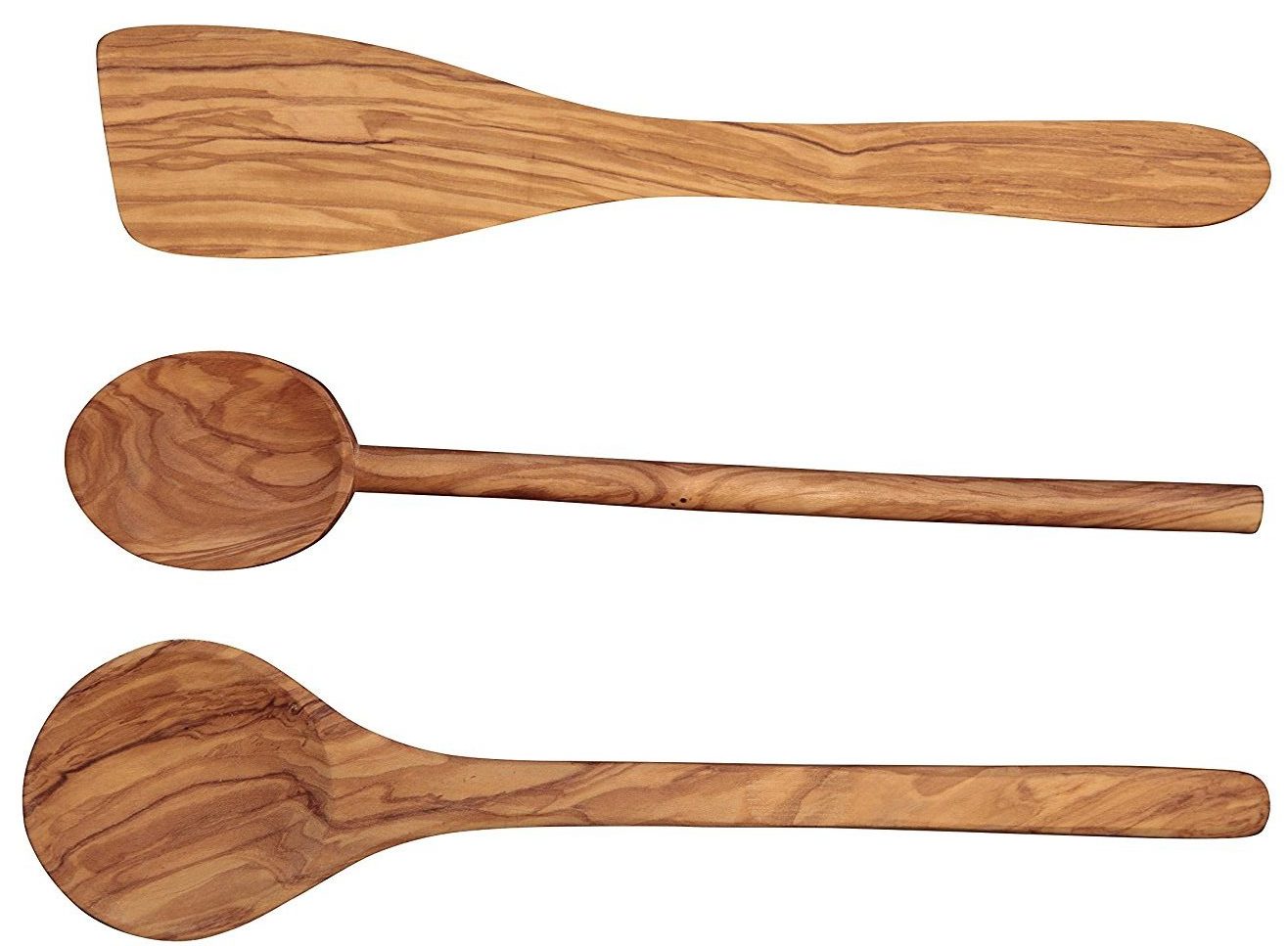 Compared to the nylon set above, this only comes with 3 pieces which is a spatula, spoon and ladle. You can get other tools such as turner, pancake spatula and stirring spoon separately. These pieces are handcrafted from Italian olive wood and they would not scratch the surface of nonstick cookware. They are also eco-friendly as the wood are harvested from sustainable sources.
Many buyers get the Scanwood utensils because of its beauty. The wood grain pattern looks natural on the utensils and they look great on the counter top. They are also durable and well-made. The feel is smooth for a comfortable hold with no worries over splinters. They can withstand pressure well with no chance of it bending like flimsy utensils do.
The problem with this type of wooden kitchen utensils is that they require a little bit maintenance. If you want them to continue looking good, you will have to rub them with mineral oil from time to time. But the reward is you get to have the best cooking utensil set that is both beautiful and functional in your kitchen.
Best Stainless Steel Cooking Utensils Set
Everyone knows that All Clad has one of the best stainless steel cookware in the market. So, how can it not come up with the necessary tools to complement its range of cookware? Below is its 6-piece set inclusive of a caddy to hold all the utensils together.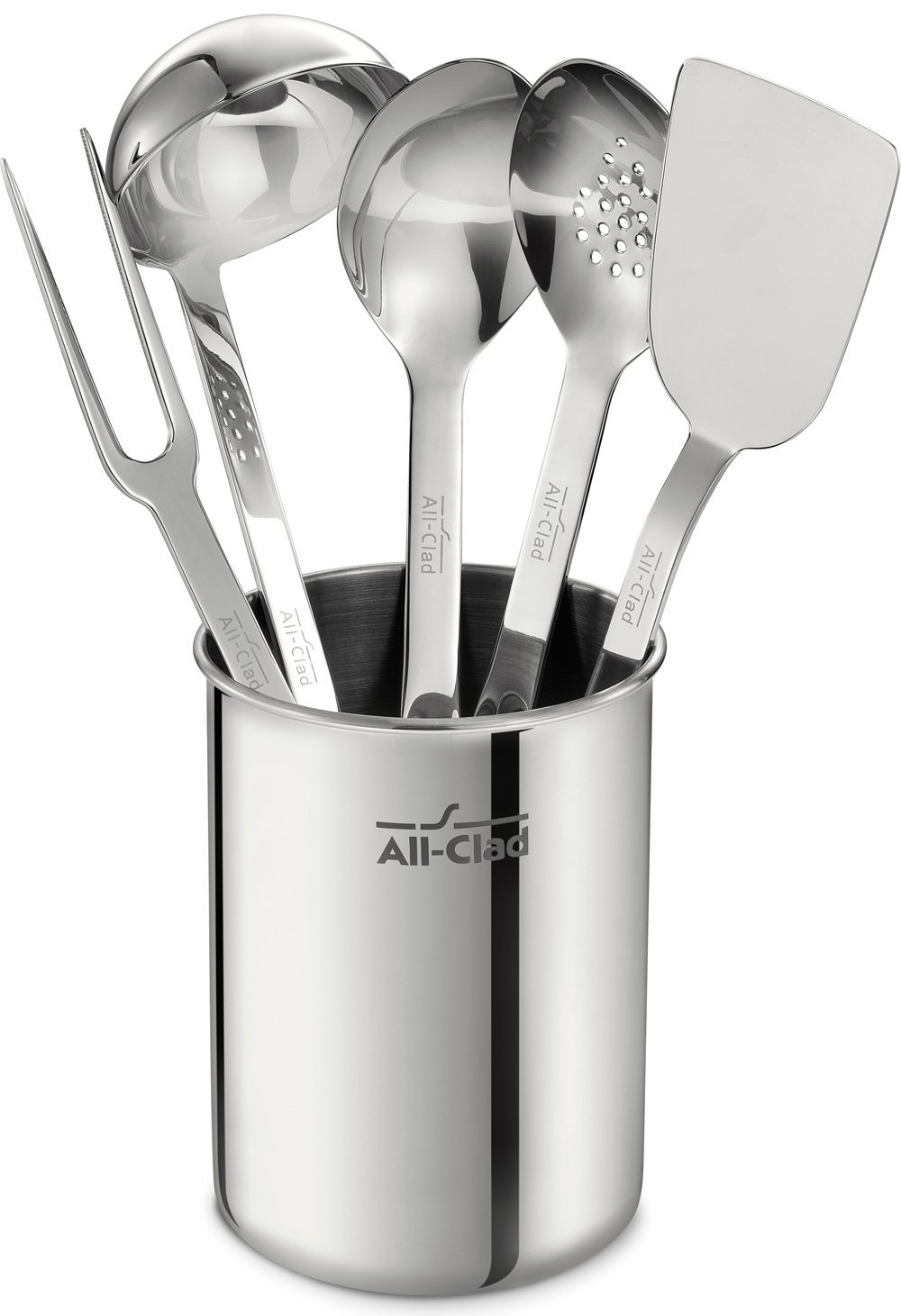 This set consists of a solid spoon, slotted spoon, fork, turner and 4-ounce ladle. A cylindrical caddy comes with the utensils and they are all made of 18/10 stainless steel with a polished mirror finish. The handles have a groove on top and rounded at the bottom for a more comfortable grip. This is the same design that can be found in their cookware. There is also a hanging hole towards the end of the handle for those who prefer to hang their utensils on a hook. The tools are also dishwasher safe.
A good thing about buying All Clad is that there is a lifetime warranty against defects. You can also be assured of the quality. The utensils will definitely feel solid and durable. You probably won't have to buy another kitchen tools set for a long time to come if you invest in the All Clad utensils set.
Because they are solid, you will feel that the tools are on the heavy side. So, if you are used to light tools, these are not for you. Also, the price is expensive due to the quality and materials. It may not make sense to spend so much on some kitchen utensils but it is worth it if you think of it as a long term investment with it is durability.
The Best Cooking Utensil Set Has Its Pros And Cons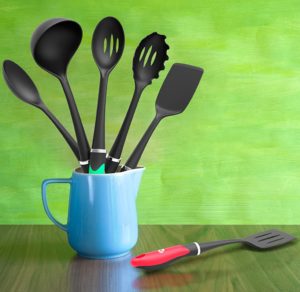 Generally, nylon tools are cheap. You can get a set for less than $20. But these are not tools that will last you a lifetime. You will need to replace them from time to time because they tend to bend and melt from repeated use over high heat. Just like nonstick cookware, some people fear they are damaging to health and hence, should be avoided. However, if you use nonstick pots and pans, they are a necessity since they do not scratch the surface the way stainless steel utensils do.
Just like nylon tools, wooden utensils also do not scratch your cookware's surface. They look beautiful and they are also very durable. Because wood doesn't conduct heat, the handles can stay cool while you cook. Wood is also non-reactive and doesn't leach chemicals onto your food unlike the risk associated with nylon tools.
However, the problem lies in the wood finishing. Because consumers may never know what goes into the wood finishes, there is still a risk in terms of safety. Wood also may splinter and retain stains. Compared to nylon and stainless steel, wooden utensils can be difficult to clean because of the porous nature of the material.
Lastly, as for stainless steel cooking utensils, they are the most durable. They can take a lot of abuse and safe to use. You don't have to be gentle with them and you can scrub to remove food particles on them during clean-ups. But that also means you can't use them for nonstick cookware. On top of that, they can get hot when heated.
The bottomline is even the best cooking utensil set has its pros and cons. Different types of utensils will serve different needs. Depending on the cookware that you have and the food you are going to cook, one type of utensil may not necessarily be better than another. So, do check out more options before you buy.