There are plenty of drink coasters in the market, from cheap ones that cost a few dollars to high end sets that will set you back over a hundred dollars. Made of different materials and designs, there is a wide range for you to choose from. But you can narrow them down if you have an idea of what you want. For instance, some people like wooden coasters to match their wooden furniture. Others might like the whimsical for a taste of fun. And if you have a sense of humor, coasters with funny sayings might be your cup of tea. So, check the different types below and see which would be the best drink coasters for you.
Best Drink Coasters By Type
Absorbent Drink Coasters
This is the most practical because you want to keep the moisture from staining your table top as well as ensuring water doesn't drip onto your clothes when you lift up your cold glass for a sip. However, not all absorbent drink coasters are made the same.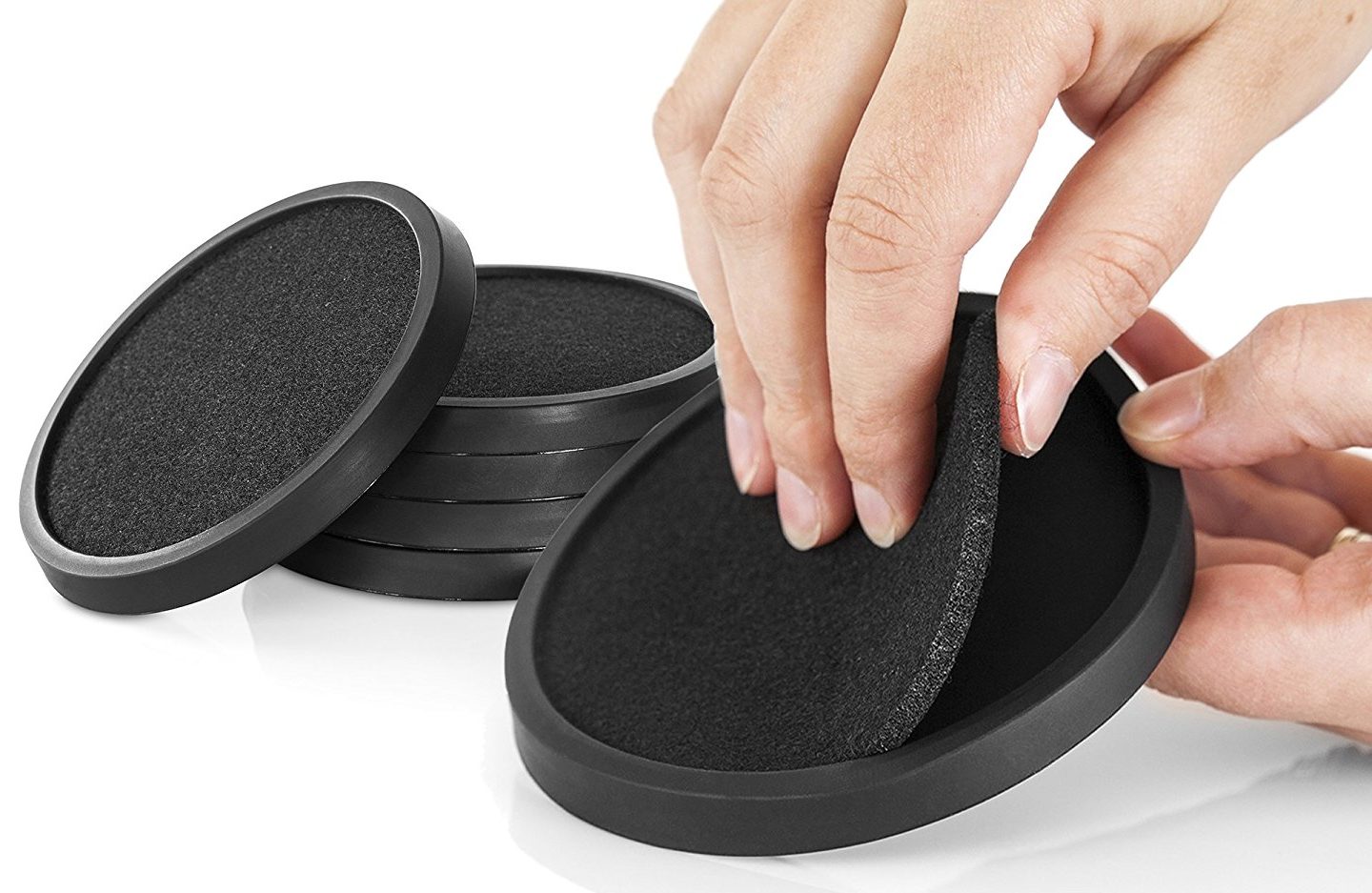 The coaster set shown here has a food grade silicone base. This is certainly not enough because condensation water or spills will pool on the base of the glass. What happens then is the coaster will stick to your glass when you lift it up to drink. To prevent this annoying problem, these absorbent coasters have a soft felt insert that will soak up all the moisture while the silicone base prevents them from soaking through to stain your table top.
The diameter of the coasters is about 3.8″. The base is non-slip so that it doesn't slide easily across the table to cause spills. The felt inserts are removable for washing and they can be put into the dishwasher with the base. The coasters are suitable for both cold and hot drinks since they are heat resistant. There are 6 coasters in a set.
The drawback of this set is its high price. While you can get coaster sets for about $10, this will cost you 4 times that at the time of writing. The design is also very simple which would not suit those who prefer something colorful. But it solves the problem of drips and stickiness effectively which makes it the best drink coasters if you are looking for those that are absorbent.
Sandstone Coasters
Sandstone is one material that is commonly used for making coasters. It is a sedimentary rock made up of of sand-size grains of mineral, rock, or organic material with a cementing element that binds everything together. In between the sand grains, you may also find silt and clay particles. So, it does have some absorbent qualities which make it suitable for making coasters.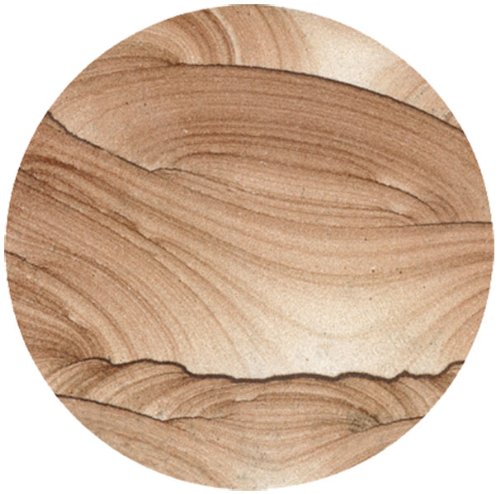 Shown above is the Thirstystone Cinnabar Coaster. It is all natural and multi-colored. As such, each coaster has a variation to it unlike printed materials. It absorbs moisture pretty well and doesn't stick when the glass is lifted up. The back of the coaster is cork-based and therefore, it won't scratch your table. About 4″ in diameter, there are 4 coasters in a set.
You can get these coasters for less than $20. But the risk is the richness of the stone varies and hence, the coasters that you get may look plainer than what you would have liked. It also absorbs a fair bit of water but it can also get saturated after several refills. Nevertheless, sandstone is still one of the best drink coasters because of its absorbing ability and it can come in different colors and patterns for a more interesting design.
Ceramic Coasters
Ceramic coasters is also one of the best drink coasters for some people because they usually come in bright and vivid colors. As you can see from the example below, they are very attractive and eye-catching which makes them perfect in complementing any home decor.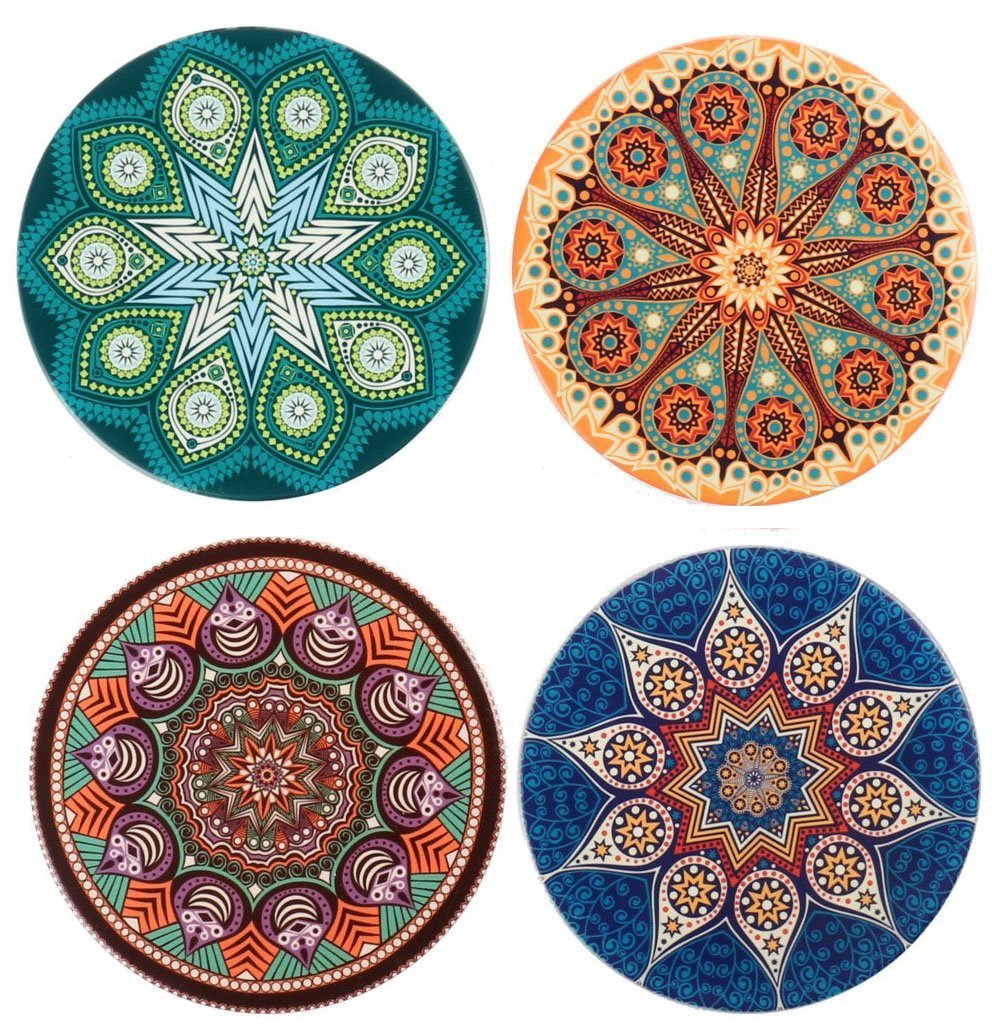 With a Bohemian style design, the above coasters are made of absorbent ceramic stone with a cork layer at the base. The clay will absorb water from a chilled glass to prevent stains on your table. The top layer will not fade or scratch while the cork base will protect your table and enhance grip. The diameter of each coaster is about 4″ and it is about 0.24″ thick. There are 4 coasters in a pack which comes in a metal tin to make it suitable as gifts.
While ceramic drink coasters are pretty, they are not superb when it comes to water absorption. You will still find water pooling at the base of an iced glass, especially in humid weather. But if you prefer attractive colors and patterns for your coasters, they are the ones to get.
Funny Coasters
Funny drink coasters are for those with a sense of humor. It is also a great addition to the table when you are having a party. Why not make guests laugh when you serve them drinks, right?
Apart from just being funny, some coasters also carry a message for your guests to adhere to like the ones above. It is a reminder not to mess up the table but it will also put a smile on your face for its bluntness. So, whenever you hand these out to your guests, they will definitely get the message and also laugh over it.
The above funny pieces are wooden coasters. You can also find funny coasters made of other materials such as cork and stone with different designs and sayings.