Grating your cheese and vegetables for salads and pizzas can be a pain. You can do that using the handheld stainless steel grater or a rotary grater. But both require a fair bit of manual labour. It is tiring on the hands, especially if you have lots to grate and shred. Imagine doing it as you prepare dishes for parties and gatherings. How much time and energy you would need grating your cheese and other vegetables for large sized dishes? So, why not make your life simpler by using the best electric cheese grater that you can find? Below are 2 models for you to choose from.
Best Electric Cheese Grater And Slicer
Presto Professional SaladShooter Review
The good thing with an electric cheese grater is that it is not too expensive for a small kitchen appliance. And yet, it helps a ton when it comes to food preparation. The Presto Professional SaladShooter is one such grater and slicer that can do a lot more than just grate cheese.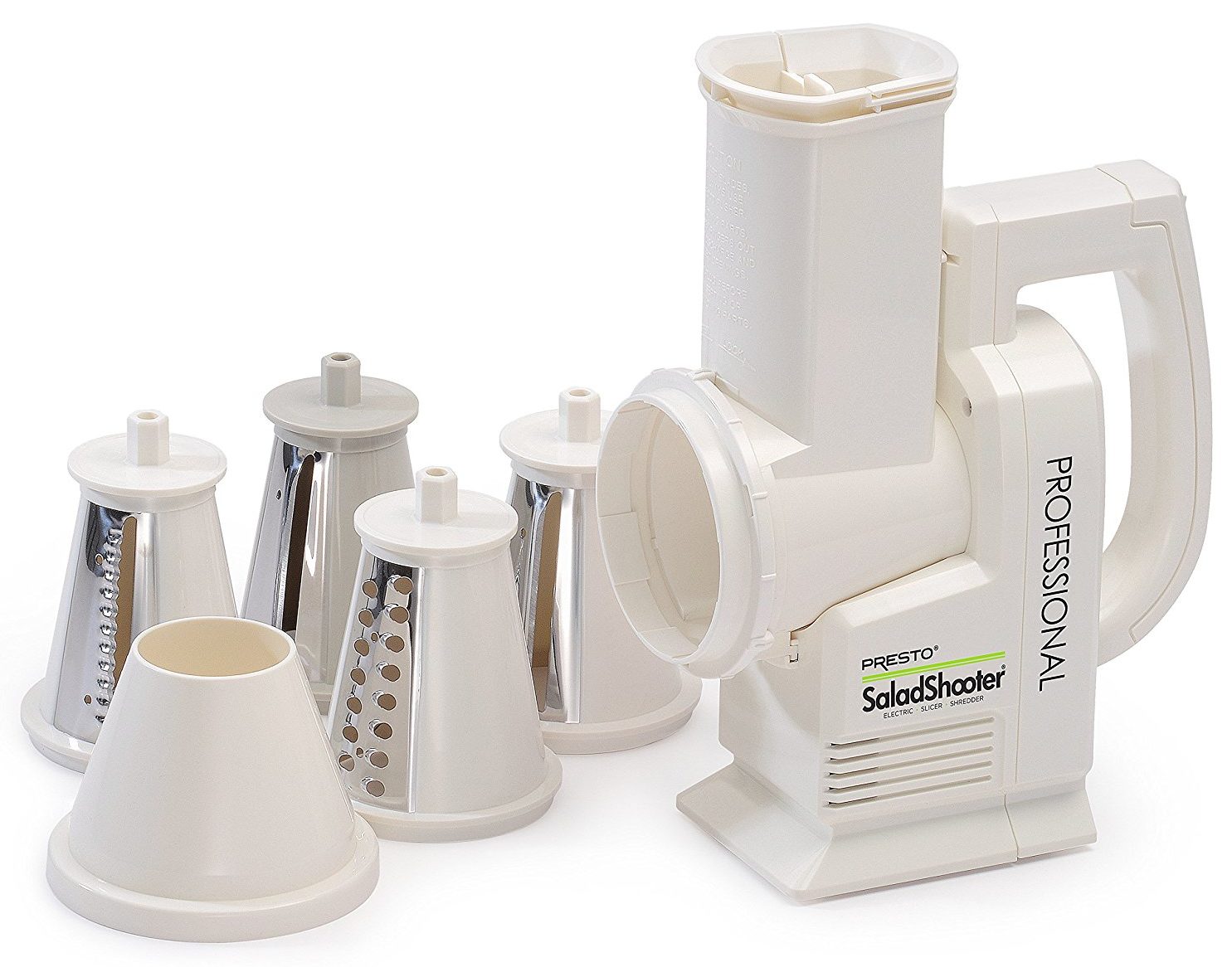 It can slice and shred vegetables like carrots and zucchini and fruits such as apples. It can also handle potatoes, cheese, nuts and chocolate. It comes with 4 inter-changeable cones which are used to make regular and thick slices, ripple cuts and shreds and a funnel guide. All you have to do is put your food into the opening at the top, slide in the correct cone, press a button and shoot away. The base can be wiped clean while other parts can be dump into the dishwasher thereafter.
Pros And Cons
One of the reasons why this makes the best electric cheese grater is that it is easy to use. It is not heavy and it doesn't have sharp blades to handle like a food processor does. It is also safe unlike a mandoline slicer which can hurt your fingers. You can slice large amounts of vegetables and grate much cheese and chocolate in minutes compared to manual slicing and grating. In short, the Presto Professional SaladShooter is powerful enough to cut down on your food preparation time and makes your task much easier.
The slicer is also versatile with the different attachments to give you varied types of cuts. Some people even used it to shred soaps. So, it has many uses apart from grating cheese to make it a worthwhile investment.
The complaint is that the Presto Professional SaladShooter is a bit loud when in operation. It can be annoying to some people. The other obvious drawback is that your food can't be too soft if you want it to work perfectly. Otherwise, they will get stuck in the blades. That is why customer reviews can end up being in 2 extreme ends. While most people find that it works well for them, there are also those who can't get it to perform to expectations. Others have also found that certain food will end up staining the slicer like carrots.
Cuisinart Cordless Rechargeable Multi-Grater Review
If you want something smaller than the Presto Professional SaladShooter, then you can look at the Cuisinart CMG-20 Cordless Rechargeable Multi-Grater. This one is easier to handle as it is smaller and you can use it without a cord since it is rechargeable.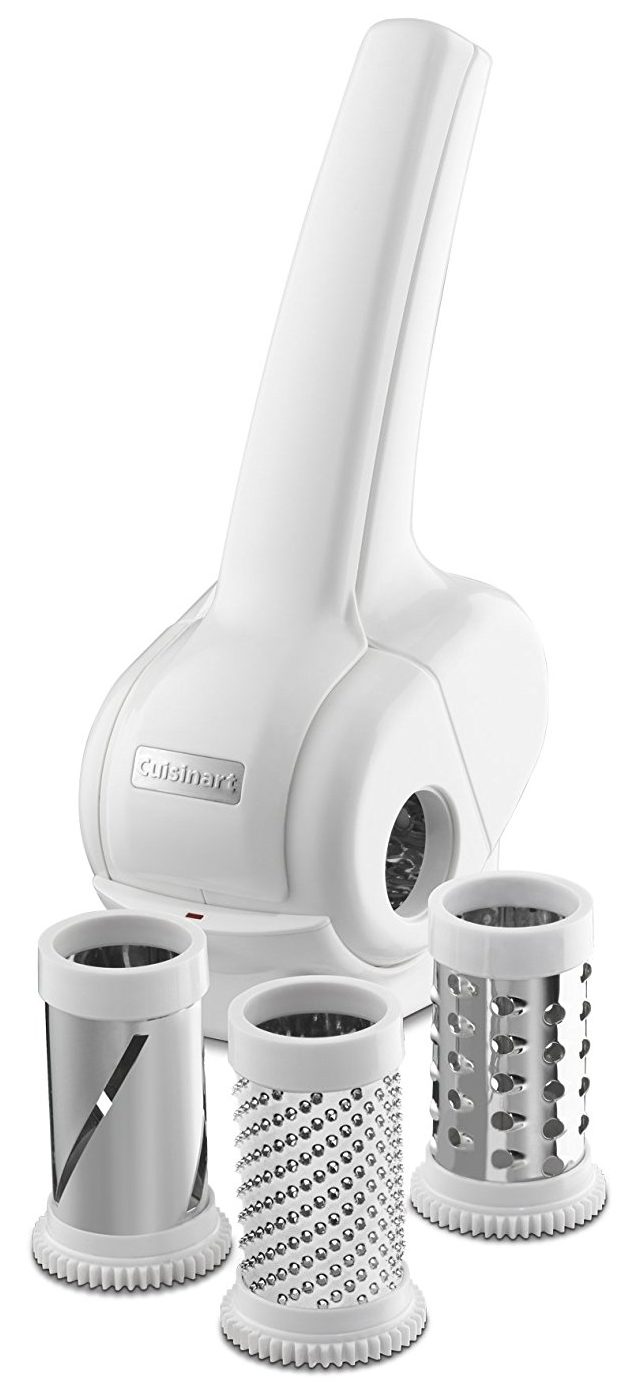 It comes with 3 inter-changeable drums for slicing, shredding and grating. It can be used for hard and softer cheeses, nuts, spices, chocolate and vegetables. The multi-grater also has a long ergonomic handle which makes it suitable for both left and right-handed users. Once fully charged, there is a 20-minute continuous run time. Detachable parts are dishwasher safe for easy clean up.
To slice, shred and grate, you just need to slide in the correct drum one one side. Open up the handle and slot in the food. Press the handle down, turn it sideways and press a button to begin operation.
Pros And Cons
The Cuisinart Cordless Rechargeable Multi-Grater is convenient to use. This is because it is small and rechargeable which means you can use it on the dinner table to grate cheese straight onto your plate. It is like having an electric salt and pepper grinder next to you while you eat. Apart from the convenience, it can also grate hard cheese like Parmesan as well as vegetables.
The downside is it has weaker power with its cordless concept. That means it takes a longer time to grate and shred hard foods compared to standard electrical graters. It is also small which doesn't make it suitable for shredding large amounts of food. It works for smaller servings because of the battery limitation of how long it can run and the weaker power.
Whether the Cuisinart Cordless Rechargeable Multi-Grater would be the best electric cheese grater for you would depend on your needs and expectations. It will disappoint if you are hoping for a fast machine that can grate a large amount in minutes. But it will be perfect for small servings and you understand the limitations of a cordless appliance.
Should You Buy An Electric Cheese Grater?
The short answer is you should. If you have a large family, this is a time saver. But if you just need a small amount each time, you may be better off with a manual unit since the time saving may not amount to much.
The other reason to go electric is the safety aspect. Of course, there are many slicers and graters now that incorporate safety features into their design. But it can't beat the safety and convenience of an electric slicer.
Moreover, it can handle shredding, slicing and grating to give you maximum value for money. It is just not cheese that you can use it for but a variety of vegetables and other food items. So, it is a small kitchen appliance that should see much use if you cook every day.
Even if you can't find the best electric cheese grater that suits your needs and preferences, there is always the rotary grater to fall back on. No doubt, an electric grater is not perfect because food can get stuck in the blades or chute. If this is your worry, then do look around for other options.