In today's world, everything is about speed and convenience. With technology and cheap production costs, we are always on the look out for gadgets that can help to make our lives easier. In the kitchen, we may look for time saving with an
automatic vegetable peeler
or an
electric cheese grater
. For cleaning, we seek out the convenience of a robotic vacuum cleaner. So, in the office, it is no surprise to find an electric pencil sharpener to help with sharpening pencils in a quick and efficient manner. This type of sharpeners are very popular and fast replacing hand crank ones which are cumbersome for sharpening more than a few pencils each time. So, let's check out the best electric pencil sharpener below for your home or office desk.
Best Electric Pencil Sharpener For Home & Office Use
OfficeGoods Electric & Battery Operated Pencil Sharpener Review
Some electric sharpeners have big capacities and they are more suitable for classroom and commercial use. If you are buying one for your home or own office desk, you don't need a large unit with all the bells and whistles. All you need is one that works well and reliable.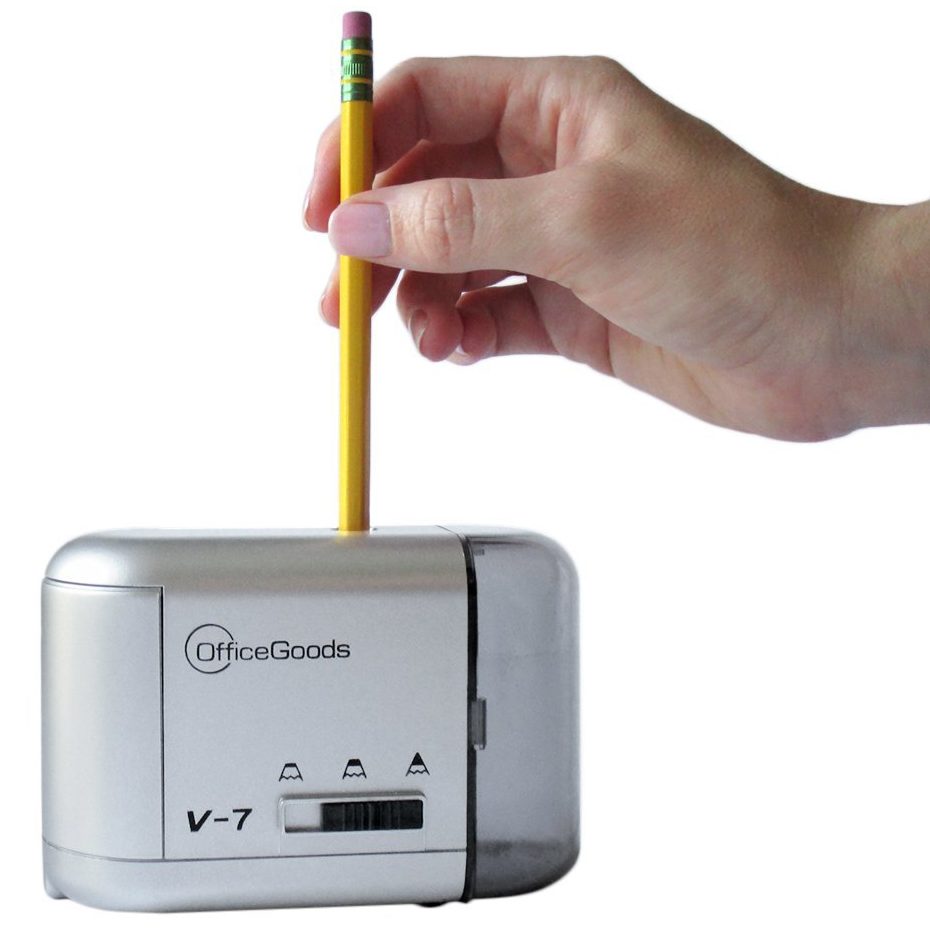 The OfficeGoods pencil sharpener shown above can be powered up in 3 ways. You can use an AC adaptor, USB cord or 4 AA batteries. It is suitable for color, graphite and standard #2 pencils. You can also choose the type pf point that you want, whether it is blunt, medium or sharp. A new pencil can be sharpened in 7 to 10 seconds with a powerful motor and stainless steel helical blade.
The pencil sharpener is safe for kids because it also has a safety feature. The motor will not work when the shaving cover is removed. The shaving cover is at the corner end opposite from the battery compartment. To empty the container, simply pop it off over the dustbin and remove the shavings.
Pros And Cons
We feel that this is the best electric pencil sharpener due to a few reasons. Firstly, there are 3 ways to power the OfficeGoods sharpener. This means you can bring it for classes or elsewhere when there is a need. Simply insert a few batteries and you are ready to go. Secondly, it is compact. With a small footprint, it won't take up much space on your desk. It will also be easier to carry in terms of portability.
Thirdly, it gives you great results. It sharpens quickly and the tip point comes out even. With 3 tip points to choose from, it is great for artists who need different level of sharpness for their artwork. Lastly, it works well on different types of pencils including popular colored pencils such as Prismacolor and Derwent.
The negatives are it lacks an auto-stop feature and multi-size holes for pencils of different sizes. Some electric pencil sharpeners will stop automatically when the pencil is sharpened. This OfficeGoods unit does not have auto-stop. Instead, you will need to pull out the pencil manually when you detect a change in the sound of the motor to denote the pencil has been sharpened. It also has a single hole only for standard #2 pencils. It can fit pencils that are a little fatter like the Faber-Castell Polychromos but it lacks different sized holes for a wider variety of pencils.
Should You Buy The OfficeGoods Pencil Sharpener?
This particular model has plenty of positive buyer reviews. It is one of the best selling pencil sharpeners on Amazon. Furthermore, the price is affordable and it is a reliable and effective sharpener for both home and office use. You have flexibility with 3 sharpness levels and 3 ways to power up the unit. It is more than enough for personal use to sharpen pencils for writing, drawing and coloring.
One thing to note is that this is not a heavy duty pencil sharpener. For that, you will need to get models like the X-ACTO ProX Classroom Electric Pencil Sharpener which is more suited for schools and commercial environments. This type of pencil sharpeners will have multi-sized holes, auto-stop and indicator light to take into account varied users and pencils of different sizes.
So, if you are just using standard sized pencils at home, the OfficeGoods unit is one of the best electric pencil sharpener models out there. The company's customer service is also helpful if you need assistance with your item. This will help to reassure customers that the company stands behind their product.