Some kitchen gadgets are just fun to have like those
cool cutting boards
and
cute tea infusers
. They don't necessarily help you a whole lot but they can still offer a little convenience and they are cool to use. Many people do buy them for the novelty factor as well as to help with their food preparation. One such gadget is the automatic potato peeler. It is a useful gadget if you have lots to peel at one go. Otherwise, you might be better off doing it the usual way with a manual peeler than using a gadget. However, it will be useful for those who have allergic skin reaction to certain foods or arthritis that causes them to have problems gripping the food item for peeling. Then, having the best electric potato peeler would make perfect sense.
Best Electric Potato Peeler
Starfrit 93209 Rotato Express Review
The Starfrit Rotato Express can peel more than just potatoes. It can also peel apples, pears, mangoes, lemons, kiwis, turnips, cucumbers and a few other items.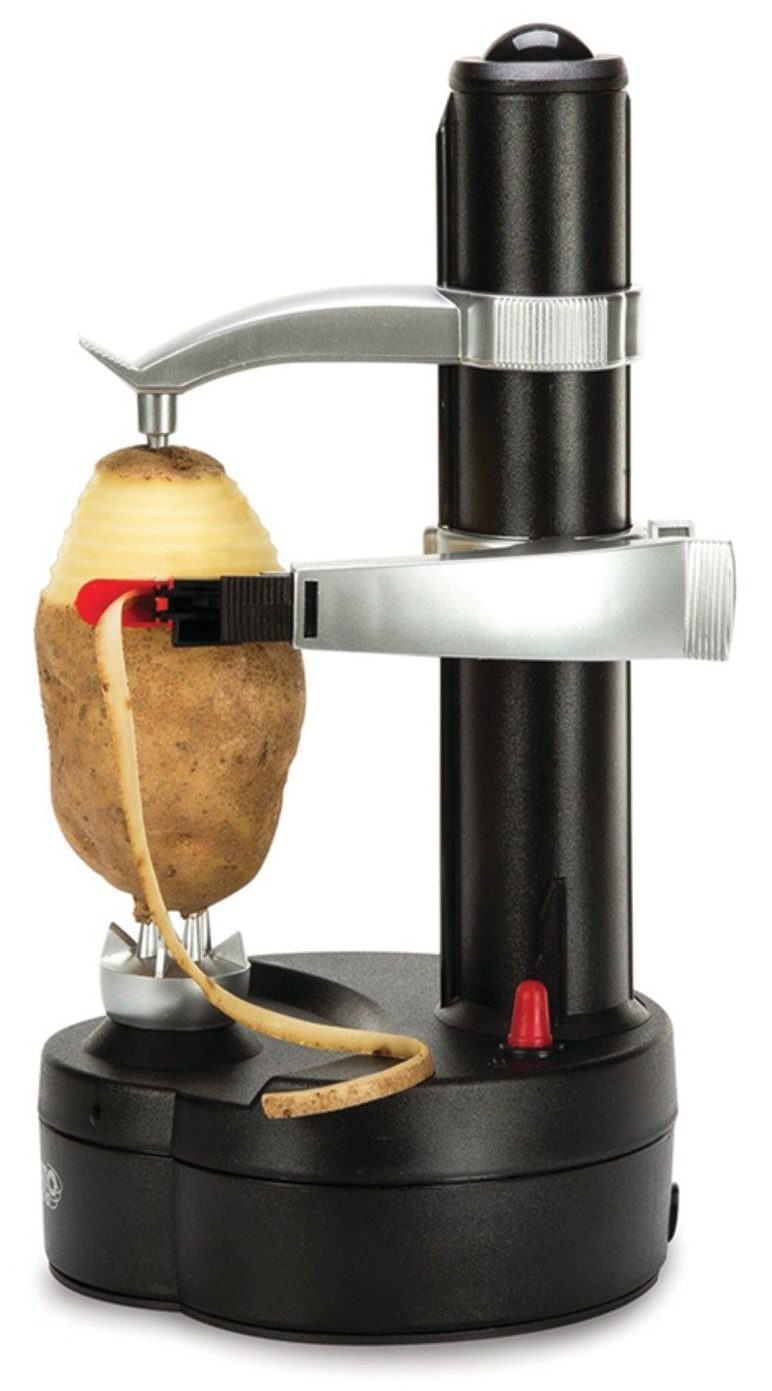 You can operate this machine with an adaptor or 4 AA batteries. This makes it convenient if you don't have a power socket nearby. All you have to do to peel an item is to place it on the holder at the bottom. This holder consists of spikes. Make your food item stand by using those spikes. Then lower the upper food holder which is a single sharp spike to secure your food. Adjust the cutter arm, press a button and the machine will start peeling in a circular fashion from top to bottom.
The gadget has a small thumb knife at the base for taking out potato eyes. It also comes with 2 additional blades tucked away in the bottom compartment. It can peel vegetables and fruits that are not more than 5.5″ tall. Otherwise, you will need to cut your food item into half.
Pros And Cons
A good reason this is the best electric potato peeler is because it is fast and simple to use. Like an electric cheese grater that saves times, a potato can be peeled in seconds by using this automatic vegetable peeler. You can't beat that when you do it manually, especially if you have lots to go through at one go. Furthermore, it is not tiring on the hands unlike manual peeling whereby you need to grip the food securely. This can hurt when you are peeling a big batch. It is also difficult to do for slippery fruits like mangoes.
Because of the way this gadget is designed, clean up is also very easy. Only the spikes and blade need to be cleaned. You can wipe the spikes with a wet cloth while the blade can be removed for washing.
The downside is this machine is very lightweight. It is made of plastic which is why some people find it to be flimsy. Therefore, you need to be gentle with it compared to using something more solid and heavy. The motor also makes a certain level of noise when peeling.
Some users also think it is not much use when you still need a standard peeler to finish off the top and bottom part. The arm cutter of the machine obviously cannot reach all the way to the top and bottom of the potato. The eyes too will require manual labour to remove. This reduces the effectiveness of the machine because the result that you will get out of the gadget would not be perfect.
With that in mind, this wouldn't make sense if you are peeling just 1 or 2 items even if it is the best electric potato peeler out there. The minimal time saving and convenience wouldn't justify its use. You still need to clean the blade and food holder afterwards which would also take up time. But it's great if you have a few more items to peel. It also is a cool gadget for those times when you just want to peel an apple to snack on but is too lazy to do it manually.
Should You Buy The Starfrit Rotato Express?
This automatic potato and fruit peeler is quite a reasonably priced gadget. At the time of writing, you can get it for less than $20. At this price point, it is hard to give it a miss if you are always peeling potatoes for your meals. The good thing is you can also use it to peel other stuff and this will increase its usage when you have it out on your counter. This will further make the cost justifiable.
There is another type of potato peeler that can peel a batch at one go compared to the Starfrit which can only peel one at a time. This is obviously a larger machine and it is also much more expensive. Again, any peeling by an automatic potato peeler will still require manual labour at the end stage to give it a proper clean up. But it will save time when there is much peeling to be done.So, check out the larger electric potato peeler too if you always have batches of it to peel.