The days of using the old fashion salt and pepper grinders is fast coming to an end. In the old days, many of these grinders come with a crank. Then, there are those that require you to rotate the top part of the grinder manually. But nowadays, you can keep all these aside and get a battery operated salt and pepper grinder instead. You can get more accurate amounts to prevent over-seasoning with this type of mills and the best thing is, you can use it single-handedly. So, it isn't any surprise that more and more people are looking for the best electric salt and pepper grinders these days to replace the old fashion kind.
Best Electric Salt And Pepper Grinders – Top Models
Latent Epicure Battery Operated Salt and Pepper Grinder Set
You can buy the Latent Epicure battery operated grinder as a set or a single unit. But if you get it as a set, it comes with a complimentary mill tray which helps to keep your kitchen surface clean rather than having powdery substances all over your counter.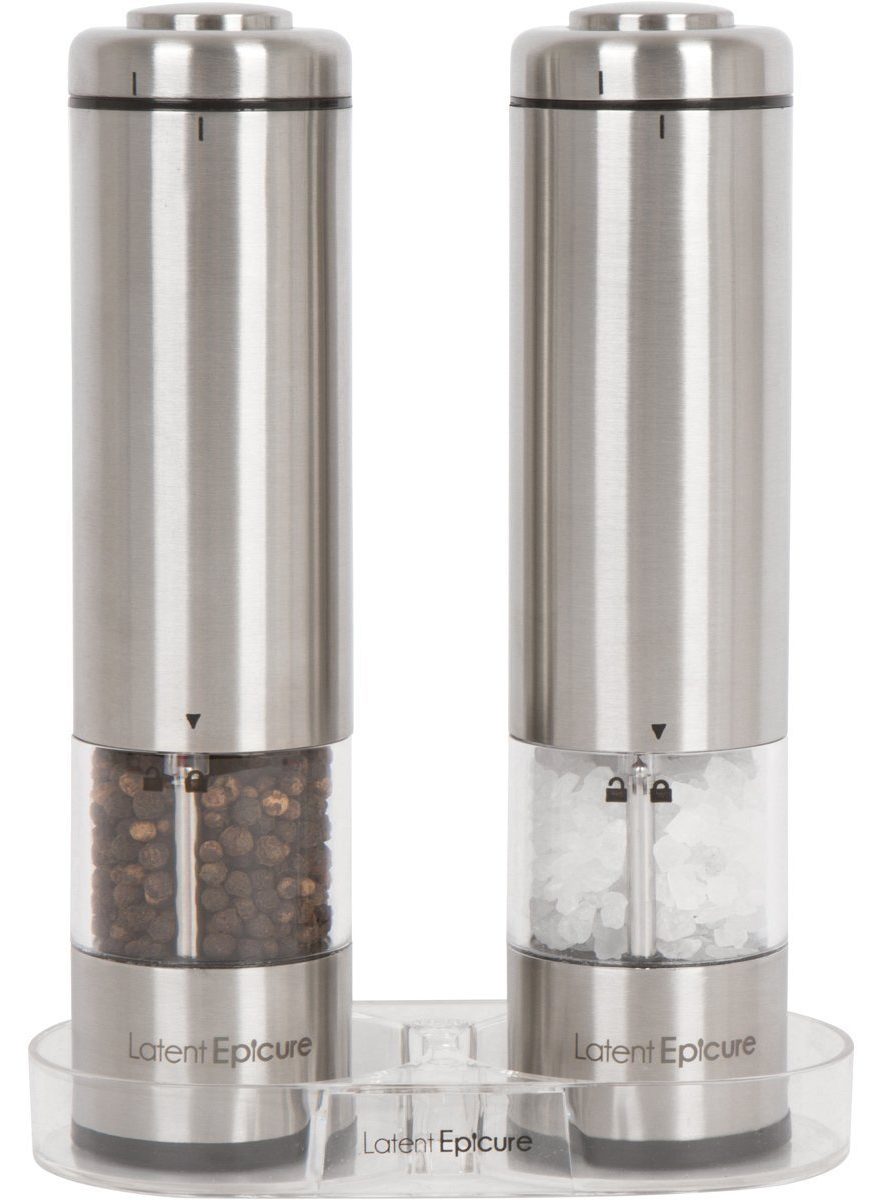 This mill operates using a ceramic grinding mechanism and a one-touch button. When the button is pressed, the mill will grind your salt, pepper or other spices to add flavor to your food. The button is right at the top and you can press it using your thumb or index finger. This allows for one-handed operation which is highly convenient when you are cooking.
There is a coarseness setting at the bottom as well as a LED light. This light is to help you see the amount of salt and pepper that is being ground onto your food when the dinner table is dim.
The grinders operate using 4 non-rechargeable AA batteries each. These are not included and must be purchased separately. You just need to rotate the top part to open up the cover to insert the batteries. Similarly, you rotate the transparent portion to unlock it for filling up the salt and spices.
The Pros & Cons
The pros that make this one of the best electric salt and pepper grinders are:
Easy to use – This is the main reason for shifting to a battery operated version and the Latent Epicure salt and pepper grinders are certainly easy to use. The button is at the top which means it won't get accidentally pressed and but when you need your salt and pepper, it is also easy to operate using one hand.
Easy to refill – You can unlock the container easily to refill without spilling the spices all over.
Bottom cover – Besides getting a tray if you buy it in a set, the grinder also has a bottom cover to keep everything neater.
LED light – The light is a practical feature for a clearer view of how much salt or pepper you have put into your food.
Stylish – The set looks modern and stylish. It will get lots of compliments at the table when you have guests. It also has a steel look which matches so many things in a modern kitchen nowadays including dish rack, fridge and microwave.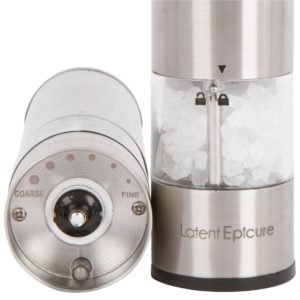 On the other hand, not everything is perfect either. The cons are:
Slow – If you are used to manual grinders whereby you can really give it a few quick twists, you cannot control the pace of an electric grinder. It might be a tad slower compared to using manual ones.
Drains battery – While the light is a nice addition, it is also a drain on the batteries.
Motor strength – A few buyers find that the grinder seems to struggle to grind certain types of peppercorns. So, you might need to press the button longer to get the desired amount.
Overall, the Latent Epicure electric salt and pepper grinder works well enough to make it a worthwhile purchase. The company's customer service is also top notch and many buyers who have had issues with the grinders they bought are satisfied with the company's response to their problems.
Kaleep Gravity Electric Salt and Pepper Grinder
To some people, the Kaleep gravity electric salt and pepper grinder is even cooler than the Latent Epicure model above. The main difference between these 2 grinders lies in the button, or the lack of one, for the Kaleep.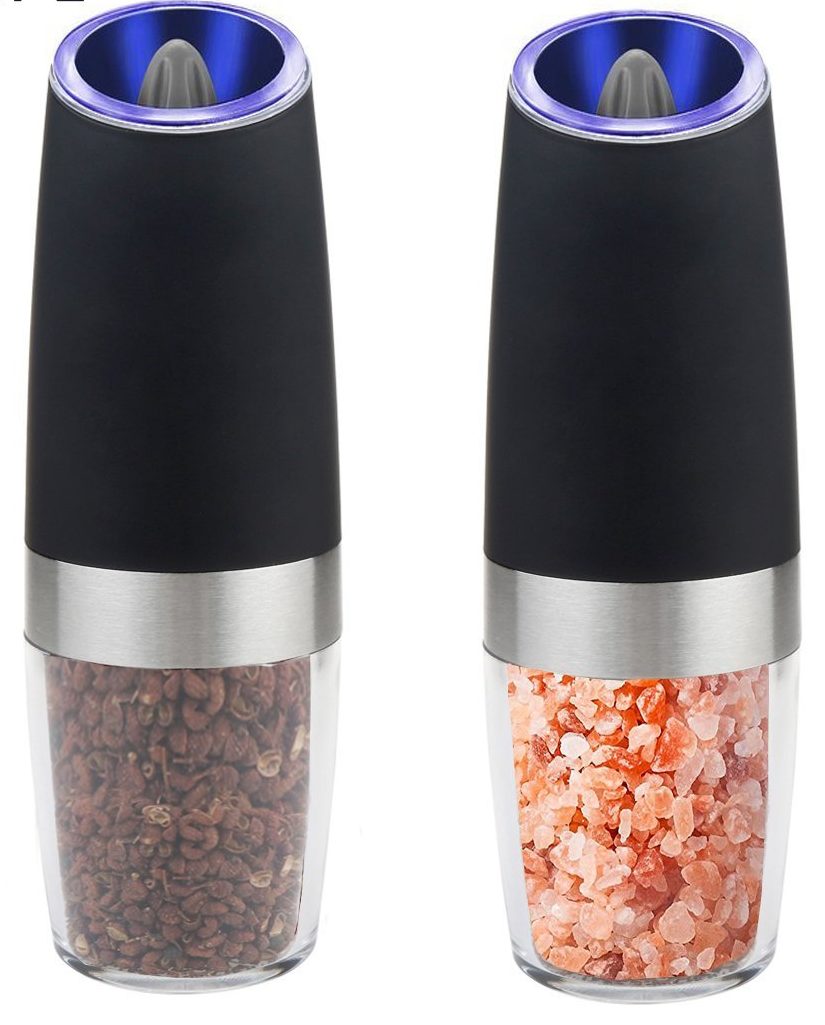 The gravity electric salt and pepper grinder is very easy to use. As mentioned, it has no button to press. It works just by tilting it upside down. It will automatically starts to grind your spices the moment it is tilted. It stops when you return it to its vertical position.
There is a blue LED light to help you see clearly in dim surroundings. This light will turn on when the grinder is on operation. You can adjust the coarseness as well by turning a knob at the top.
This grinder requires 6 AAA batteries to operate. Twist to remove the black part of the grinder to insert the batteries. The container for the spices is made of acrylic material which is non-corrosive and anti-oxidative. The motor mechanism is ceramic.
The Pros And Cons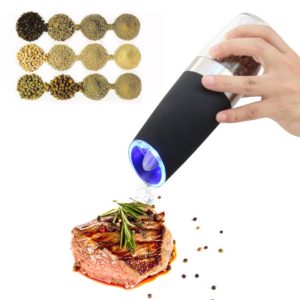 The pros for this grinder are:
Modern looking – This electric salt and pepper grinder set has a modern but simple design which will fit in well in any kitchen or dinner table.
No button to press – You only need one hand to use this without needing to twist and rotate. You don't even need to press any button which makes it the easiest salt and pepper grinder to use.
Bright light – The blue LED light is pretty bright which helps to illuminate your food to see clearly how much seasoning you are putting in.
Grinds fast – The grinding process is fast and there is not much waiting required to get the amount that you want in your food.
Grinder is on top – The advantage of having the grinder on top rather than the bottom is that you don't end up with bits of salt and pepper all over your counter and table top.
The cons that may make you think twice are:
Batteries – The grinders require 6 AAA batteries each. That is a recurring cost because you need to replace the batteries when they run out of power.
Gets clogged – A few users have complained that the grinder gets clogged up at times. So, you need to clean it up or unclog it to continue using.
This is the best electric salt and pepper grinder for those who don't even want to press a button to make it work. Just tilt and you have salt or pepper being ground up and discharged into your food. It is cool and that is something a manual version can't beat.
Should You Buy Electric Salt And Pepper Grinders?
One thing that you have to bear in mind with electric salt and pepper grinders is that they do carry a risk of being defective. As with all electrical items, sometimes you might end up with lemons and they do not work out of the box. At others times, there could be motor failure or electrical fault to render them useless. So, this is something that you ought to be aware of when buying an electrical salt and pepper grinder.
Having said that, it is still a practical item to have in the kitchen. This is because it is hard to operate a manual grinder when you are cooking and your hands are oily. An electric grinder solves this problem. On top of that, it is also cool to have it at the dinner table. Even young kids will be able to use it as they don't need to twist anything with their small hands. Apart from the two of the best electric salt and pepper grinders above, you can also check out other choices in the market of which they are plenty.