There are a few reasons why some people prefer to have a standing toilet paper holder. Firstly, it is easy to shift it from one place to another. If one of your bathrooms has run out of toilet rolls, you can shift the whole stand over. Secondly, there is nothing to mount. It is usable out of the box. Thirdly, some units have storage space to hold an extra roll or two. Hence, you don't have to worry about running out of toilet papers while in the loo. So, overall, it is a practical item for the bathroom. Below we have selected the best free standing toilet paper holder designs to help you choose the one that best match your needs.
Best Free Standing Toilet Paper Holder – The Options
Gatco Pedestal Toilet Paper Holder
This is available in various finishes such as brass, bronze, chrome and satin nickel. It has a spring-loaded metal bar to hold the toilet roll in place.


The whole structure is sturdy and feels weighted down with the heavy base. It doesn't topple over when you pull the toilet paper like some other cheaper units. The paper rolls out smoothly each time.
However, it is more expensive than other holders with its elegant finish and solid feel. Also, bear in mind that this does not have a place for extra rolls. But if you like a standing toilet paper holder that doesn't take up too much space, this is a great option.
InterDesign Classico Free Standing Toilet Paper Holder
If you want something that also allows you to store a few toilet rolls, then the above item is not for you. Instead, have a look at the InterDesign Classico free standing toilet paper holder below.


The good thing about this toilet paper stand is that it is also available in various finishes to match any bathroom decor such as bronze, copper, matte black, pearl white and chrome . It has a durable steel construction with no assembly required. To change the roll, just slide the old one off and slide in the new. There is no spring loaded spindle to deal with unlike wall-mounted toilet roll holders.
The stand can hold 3 extra rolls while dispensing one. The raised feet keep the toilet papers off the floor which prevents them from getting dirty and wet. It also has a stable design and the weight of the toilet rolls will help to anchor the stand down.
The drawback of this toilet stand is that it is not as heavy as the Gatco unit above. So, it might tip if you are not careful with it. But if you want one that comes with storage and is very easy to replace the rolls, this is one good option to consider.
DecoBros Toilet Tissue Paper Roll Holder
Compared to the 2 odels above, this comes with a bit more storage space. Instead of being able to hold just toilet rolls, it has a basket at the bottom that will also allow you to store a few magazines and newspapers.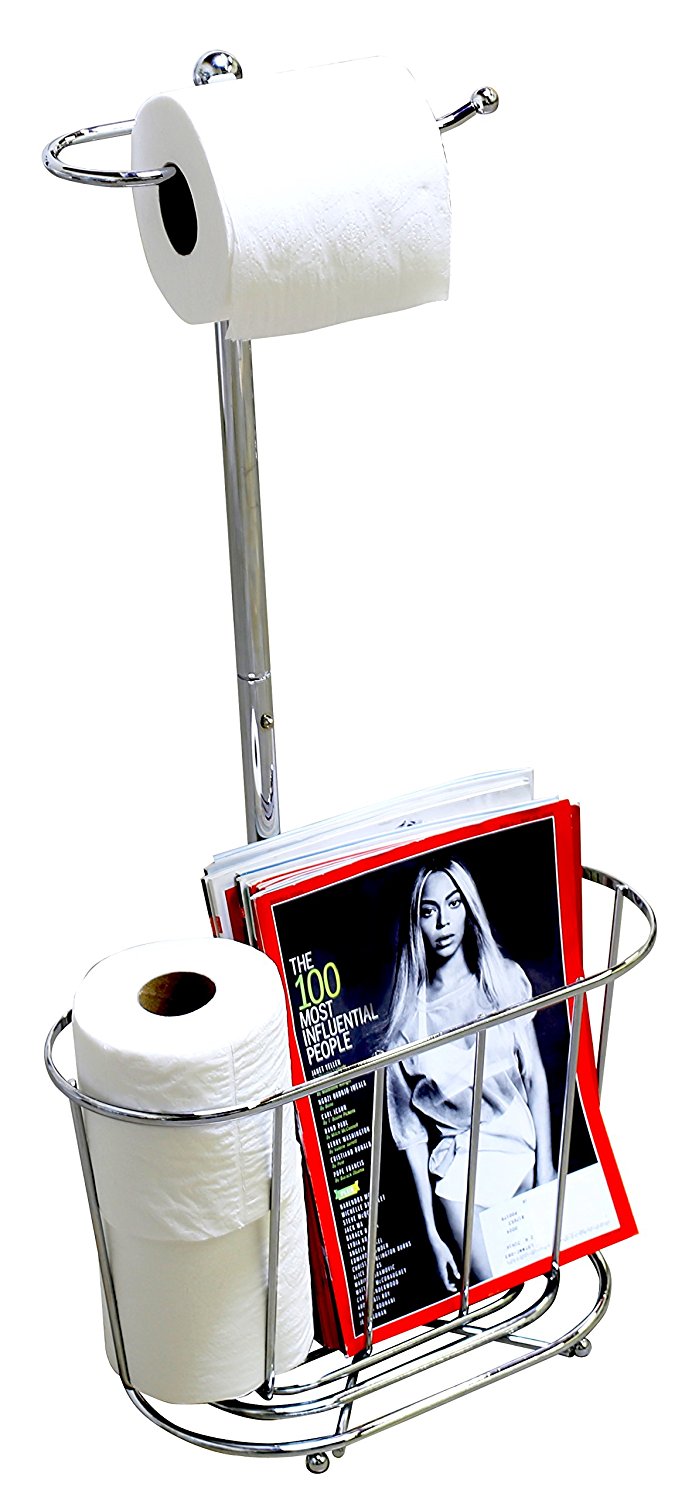 Made of steel with a chrome finish, it is well-balanced with a toilet roll holder at the top and a pole that connects to the basket at the bottom. Changing the toilet roll is just a matter of sliding a new one in after removing the finished roll.
The basket can store up to 6 rolls of toilet paper if you leave out the magazines. But the good thing is you have flexibility to decide what to store in it depending on your personal preferences. Because of the availability of the basket, the stand can also be used to store yarns. There are buyers who bought it for knitting purposes rather than as a toilet roll holder.
Overall, many people do think this is the best standing toilet paper holder for the price because it is fairly cheap. It costs less than the 2 models above at the time of writing. However, it could rust over time, especially if it is placed in a humid and damp environment. If you don't mind replacing it at some point because of the low cost, it is still worth a consideration.
Decorative Bathroom Toilet Paper Holder
If you like to decorate your home with unique and novel items, then the above toilet roll holders may be a little too boring for your taste. As such, step away from the conventional and get something different like this giraffe toilet stand below.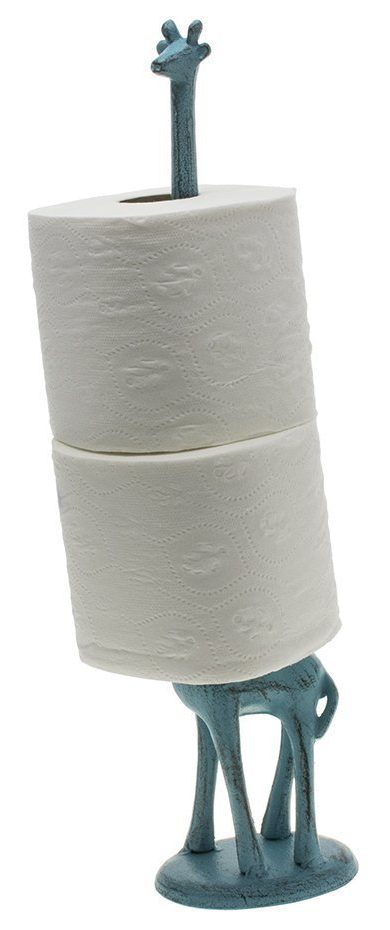 This is a cast iron standing toilet paper holder. In the form of a giraffe, the long neck makes a perfect place to slide in your toilet rolls. It can hold 2 rolls and heavy enough to enable you to tear off your tissues using one hand. You don't need the other hand to hold it steady as it doesn't topple over with its heavy weight.
You buy it because this is indeed a unique toilet paper holder. The other reason for getting it is because it can also function as a paper towel holder. So, if you find this too cute for the toilet, you can place this in the kitchen and slide in a paper towel instead of toilet rolls. With the design, needless to say, it will also make a good gift for family and friends.
As you can see from the above designs, which is the best free standing toilet paper holder really depends on your needs and preferences. Do you require storage for extra rolls? Do you want a place for magazines? Do you need it to have a unique design? Or is price your main consideration? Different people will have different needs and tastes. But ultimately, a free standing toilet holder is about convenience and easy access when a toilet paper is needed.