Nowadays, laptops and computers are a common item in every home. While you may have professionals to take care of both the hardware and software in the office, your own computer at home would require your personal care. It needs to be cleaned from time to time because it collects dust that can easily end up in hard to reach places. For instance, dust and hair may collect on the keyboard in between the keys and in the crevices. That is why a special type of blower or vacuum cleaner is needed. So, check out the best keyboard vacuum below to ensure your computer remains in tip top condition.
Best Keyboard Vacuum
Metro Vacuum MDV-1BA DataVac Pro Review
This DataVac Pro model is not merely a keyboard vacuum but it is also a computer vacuum and blower. This means you can use it to clean the processor as well apart from the keyboard. It also can be used as a vacuum and a blower which makes it a 2-in-1 unit.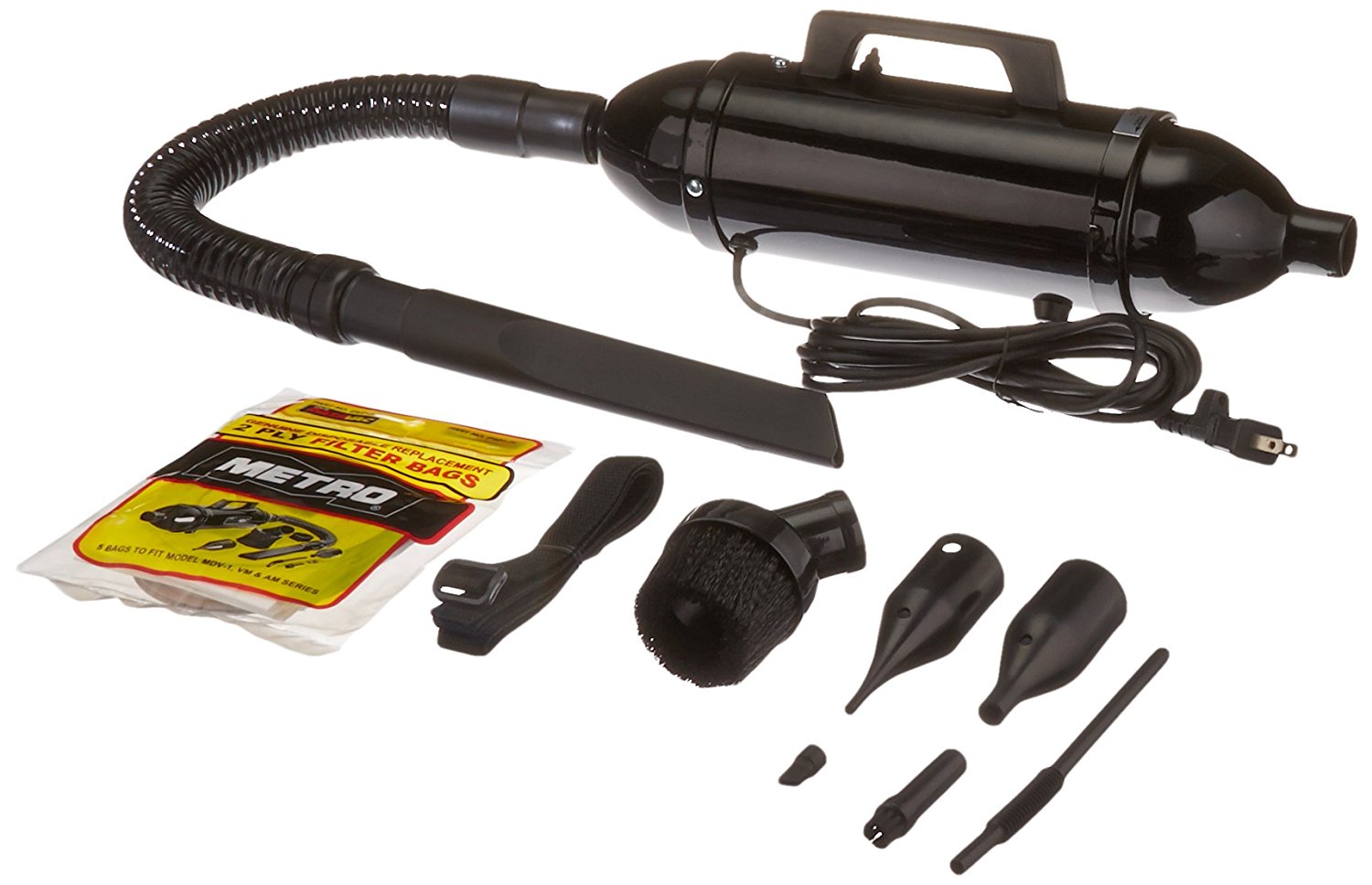 The blower can operate at 70 CFM. The motor is 120-volt, 0.75-PHP and 4.5-amp. The whole unit weighs 3 lbs and is 16″ (W) x 4″ (H) x 4″ (D). It has a steel construction. There is also a shoulder strap provided to make cleaning easier as you move around.
Given the crevices and other tight spaces that need to be cleaned in a computer and keyboard, various tools are included to make the job more effective. These include a 19″ flexible hose, crevice tool, air pin-pointer, soft bristle brush as well as 4 other micro cleaning tools. 5 disposable bags are also included.
The unit has a vacuum on one end and a blower on the other. You just need to attach the hose and appropriate tools to the correct end depending on whether you wish to vacuum up or blow away the dust.
Pros
Made in USA – When many items are now made in China, the Metro DataVac Pro is an exception. It may not make much difference to some people but it does offer a bit more reassurance in terms of safety and durability when you are buying an electrical appliance.
Canned air alternative – With the trend for a greener planet, this is an alternative to using canned air for a better environment.
Sufficiently powerful – Pet hair, dust and crumbs on your keyboard will easily get sucked up by the vacuum. The blower is also powerful enough to loosen dust inside the machine. It is far superior than any USB or battery-powered desktop vacuum.
Varied attachments – There is a complete tool kit available to take care of crevices, corners and tight spaces both for the keyboard and motherboard.
Cons
Gets hot – The unit gets hot after a few minutes of use. It is not meant to be used for extended periods of time unlike a house vacuum cleaner.
Can be more powerful – Some people complain that the suction power could be a little stronger. Stubborn particles and dust that get stuck onto the surface will need the help of the bristle brush to loosen.
The DataVac Pro may be the best keyboard vacuum but it is also on the expensive side compared to a USB vacuum. But it is definitely more reliable and effective. That is what you are paying for as well as the ability to use it to clean your whole computer and not just the keyboard.
USB Keyboard Vacuum
If you are not willing to spend so much money on a keyboard vacuum, you can go back to using a USB-powered unit like the one shown below.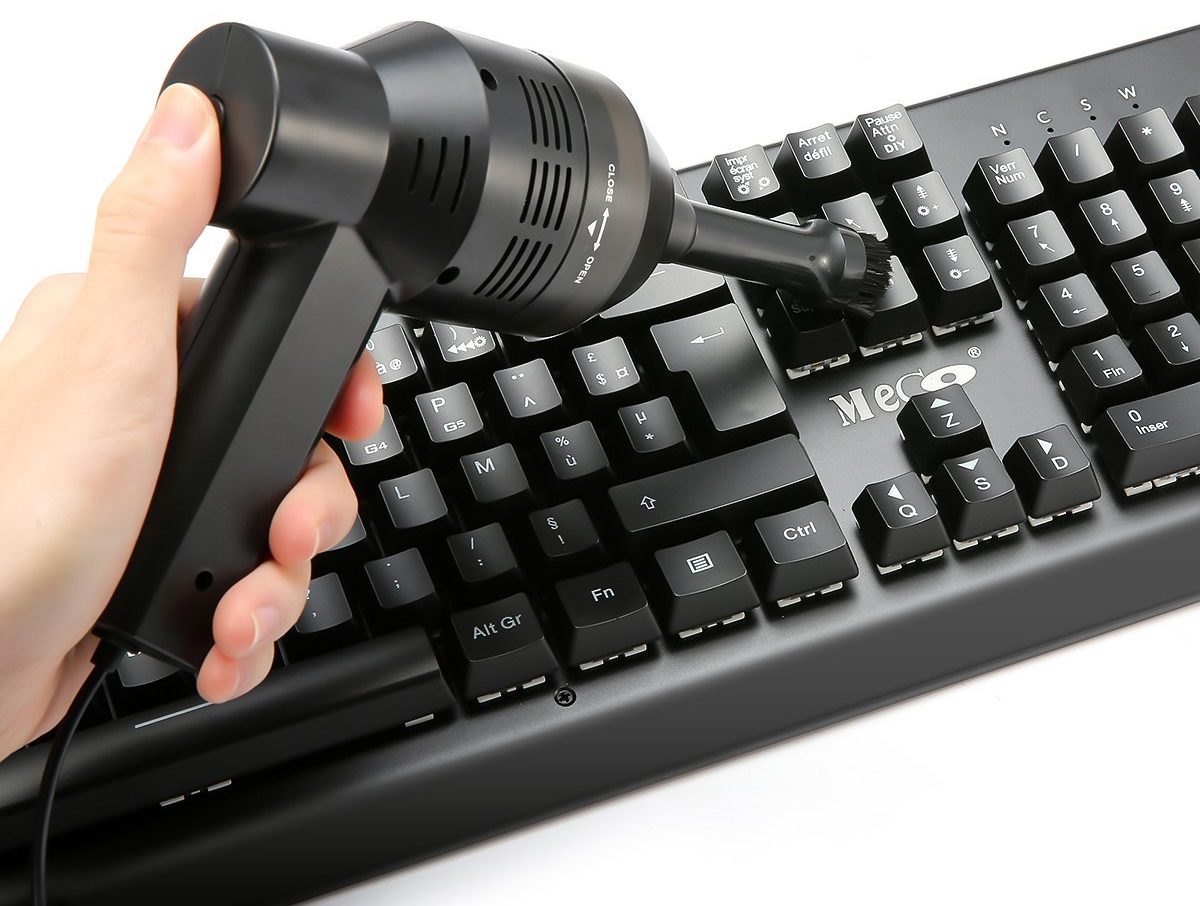 The MECO may not be the best keyboard vacuum due to its weaker suction power compared to the DataVac Pro above but it is enough to get dust off keyboards, printers, table lamps, car air-conditioner vents and other items with small spaces and crevices.
There are 2 nozzles provided. A flat nozzle to pick up tiny bits of paper and a brush nozzle to lift dust and crumbs on the keyboard. There is a filter inside the unit which can be taken out to wash. The vacuum is small in size which enables you to move it around easily. The dimensions are 8.46″ (W)  x 5.32″ (H). You can recharge it easily using any USB port.
Below is a clip on a similar USB vacuum for you to check out on the effectiveness of this kind of gadget.
Pros
Cheap – A USB keyboard vacuum typically costs less than $20. This is much more affordable than a full strength vacuum like the DataVac Pro.
Easy to use – It is small and lightweight. It is easy to use as you work your way around the keyboard without a hose and wire to get in the way once it is fully charged.
Highly portable – Because it is small and light, it is easy to carry from one place to another. Once fully charged, you can take it to your car to vacuum the air conditioner vents and radio. You can also use it to vacuum other small electrical items apart from the keyboard.
Cons
Insufficient power – Being a USB unit, it is definitely not the best keyboard vacuum out there. The suction power will always be limited.
If you have high expectations on the suction power, a USB vacuum would disappoint. It won't be able to pick up everything to make your keyboard perfectly clean. While it can make a difference, the keyboard wouldn't look brand new either after the vacuuming is done. The suction power is not so great that it can suck up sticky dusts which tend to settle on old keyboards.
That is why there is a great price difference between the best keyboard vacuum and USB powered ones. If you want something small and cheap, then you will have to compromise on suction power. There are plenty of USB vacuum cleaners out there and you can view more choices here. But generally, the complaints are the same. Otherwise, be prepared to fork out more for a better keyboard vacuum.