Turkish towels are popular because they are absorbent and can dry up fast. However, they are not so absorbent that they soak all the water on your skin to leave you with totally wet towels that will take ages to dry. Instead, they tend to push water off your skin so they have less to absorb for a quicker drying time. So, generally, they are not overly plush or thick towels. Therefore, they are easy to pack and not too heavy. Below are some of the best Turkish towels that you can find in the market.
Best Turkish Towels Reviews
Salbakos Luxury Spa Turkish Cotton Oversized Towel
If you like oversized towels, this is for you. The Salbakos Luxury Spa is a huge towel that measures 40″ x 80″. In fact, you can use it as a pool or beach towel.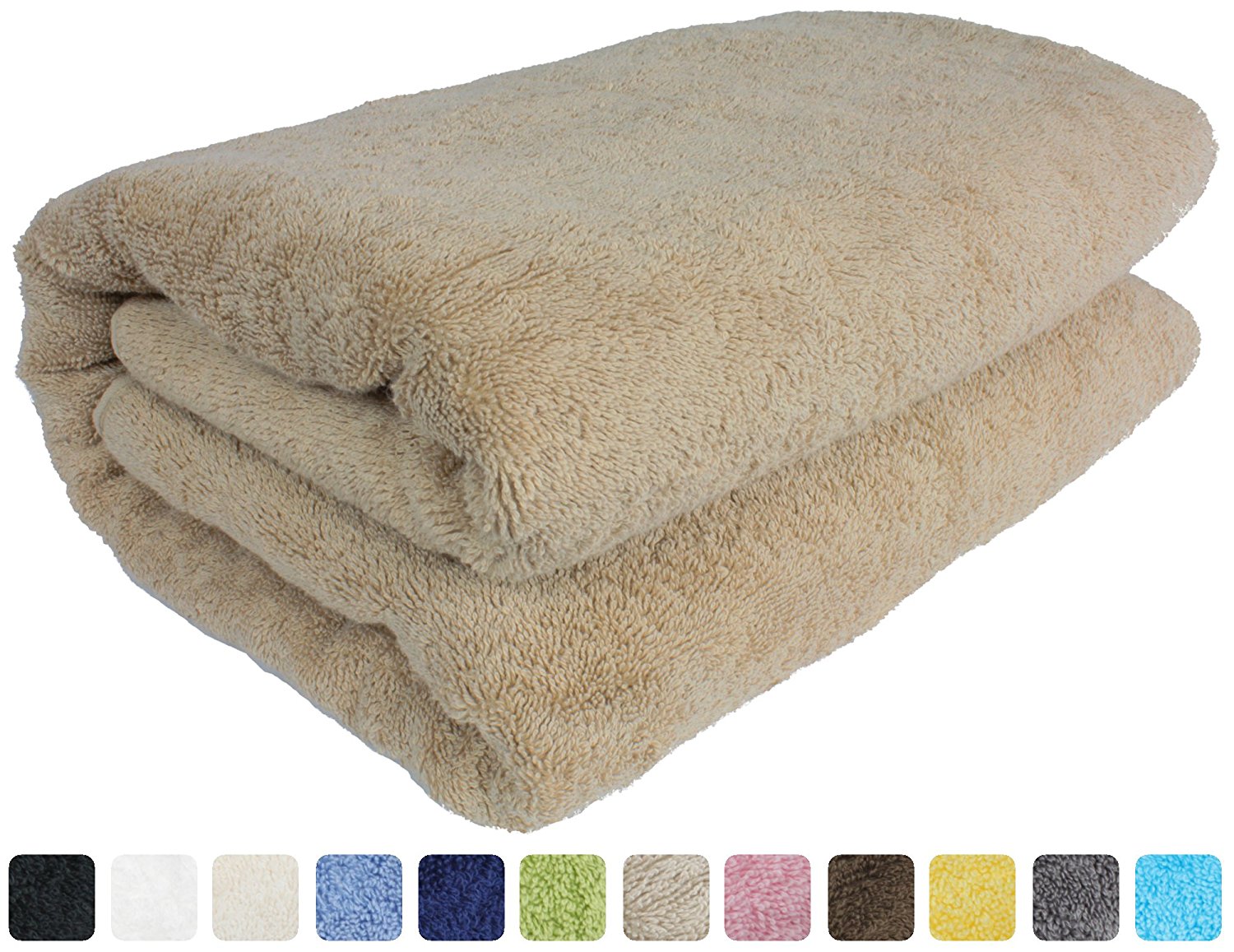 Made of 100% combed Turkish cotton, it is an eco-friendly towel. No bleach is used in the manufacturing process and all materials are chemical and pesticide free. The colors of the towels are not prone to fading with the use of VAT dyeing process and the hems are double lock stitched.
The towels should get softer after each washing. Many colors are available but different colors will attract different pricing due to the dyeing process involved.
One good reason to buy this is because of its size. As mentioned, if you like large towels, this would not disappoint. You can wrap this around your body 2 to 3 times if you are of average size. Because it is big, there are plenty of dry spots to towel off your wet hair and body. Furthermore, it is soft enough that it feels comfortable on your skin and not too dense that it becomes difficult to dry.
The complaint is it is on the heavy side because of its size. It is also not super absorbent which is not surprising for Turkish towels. For those who like towels that absorb water very quickly and effectively, Turkish towels are not the type to get. Some buyers also find loose threads after putting the towel in the washer. For the price paid, the finishes could be better but if you are not too fussy over the details, the Salbakos Luxury Spa is still one of the best Turkish towels for its size.
Chakir Turkish Cotton Luxury Hotel & Spa Bath Towel
These are imported towels that are made in Turkey.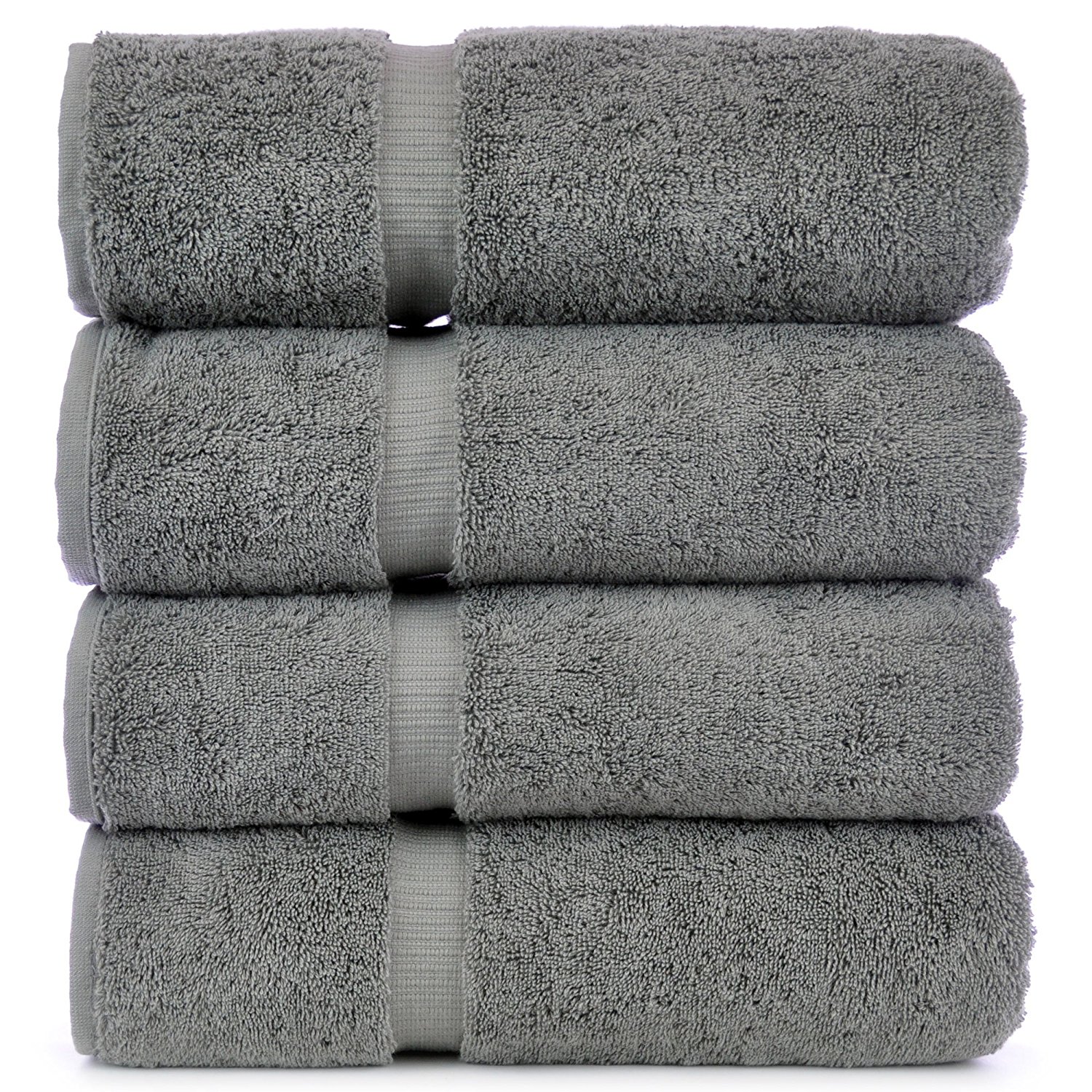 The towels are 100% cotton that will become softer with every wash. They have a double stitch edge with extra thick weave. These Chakir Turkish towels are claimed to be highly absorbent and durable. The bath towels measure 27″ x 54″ and they have a GSM of 700+.
Basically, these are good for the price. If you buy it in a set of 4, each bath towel will cost you about $10 at the time of writing. It is absorbent as advertised and it works better after a few washes. The surface is smooth enough to be comfortable on your skin. It is not plush but it does have sufficient thickness to make it suitable as a bath towel.
Buyers have complained about the amount of lint coming from these towels after the dry cycle. So, they do shed quite a bit of residue. They also tend to shrink after washing. As such, you might like to consider a bigger size if you are already struggling with the standard bath towel sizes. A few users have also highlighted the fact that these Chakir towels are not very durable. They will become frayed after a year or two.
But for $10 a towel, these are one of the best Turkish bath towels for the price. They are certainly not designed to last you a long time. So, do take note that the towel will become thinner as it goes through each wash and dry cycle.
Cacala 100% Cotton Pestemal Turkish Bath Towel
This is not your traditional fluffy bath towel. If you can get used to thinner versions, the Cacala Cotton Pestemal bath towel is a great alternative to the usual.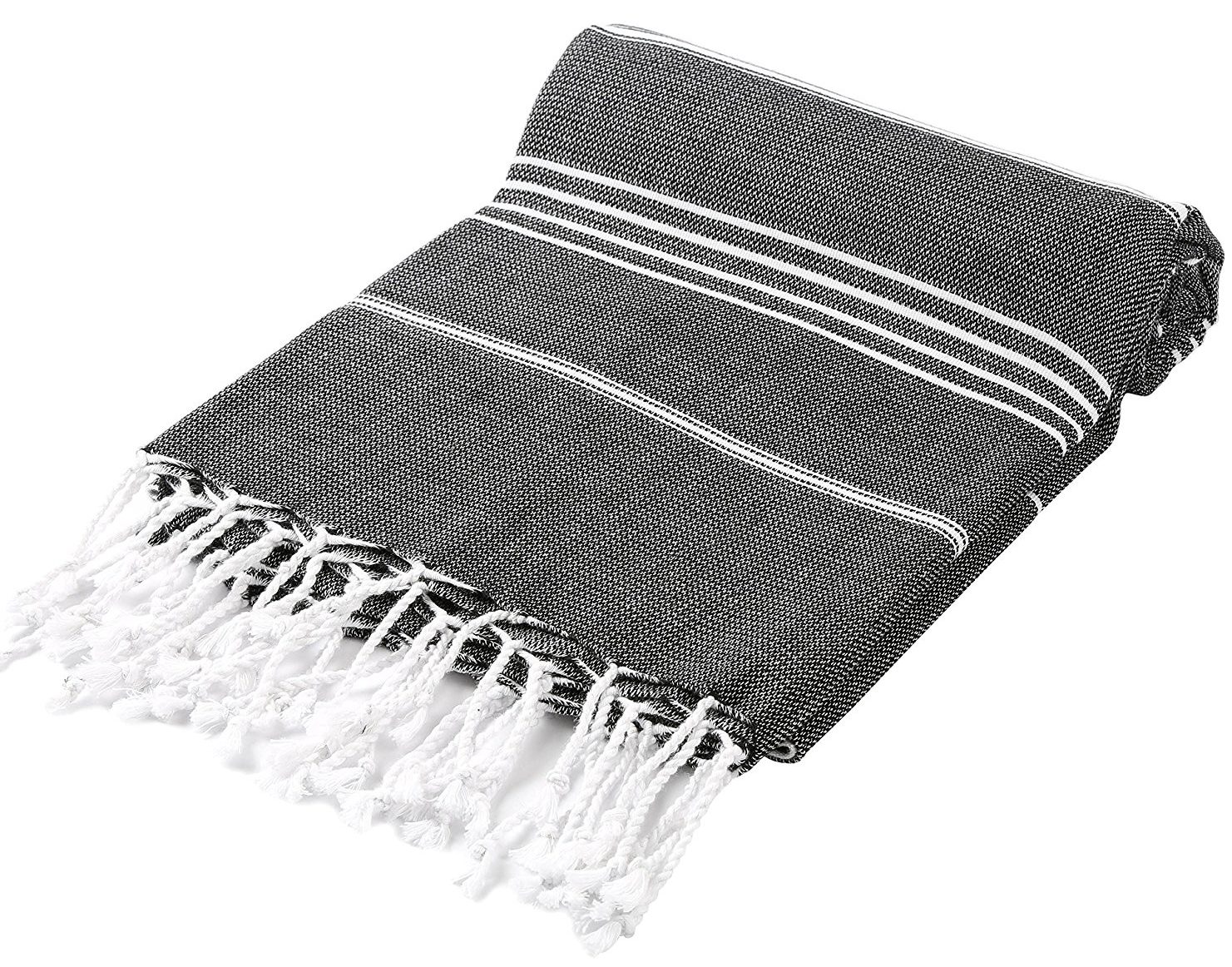 Made of 100% cotton, this towel is 37″ x 70″ in size. It has high absorption capability and dries quickly. It is soft and can be easily rolled up. This means you can pack it for travels since it is also lightweight. With its design that doesn't look like a usual bath towel, it becomes a very versatile piece of fabric. People have used it as a table cloth and shawl as well as bringing it along to the beach and picnics.
If you love to travel, this is a good reason to buy this pestemal towel. It is much easier to pack compared to the normal bath towels. It is very light to carry and it can double up as a shawl when the weather gets chilly. After all, it is available in a variety of colors including bright ones. On top of that, it absorbs well and dries quickly. When you are checking in and out of hotels, having a towel that dries faster is definitely a plus when it's time to pack up and go.
On the downside, the towel is on the thin side. It could take some getting used to if you have been using plush towels all this while. Apart from that, not everyone will like the feel of the towel. This is because it doesn't have that usual absorbent feel that traditional towels have. It will dry you up but some would feel that it is more of pushing off water from your skin rather than absorbing it fully into the material.
A Matter Of Personal Preference
Which bath towel to buy is really a matter of personal preference. Some people like it thicker while others prefer thinner ones. Some would choose highly absorbent towels while others want something that dries quickly. Furthermore, each person's standard is different. What is considered thick and luxurious to one may seem cheap to another.
Therefore, if you want to look for the best Turkish bath towels, going through the customer reviews before you buy would be a good start. However, there is still a risk that the towel may not meet your expectations. As such, don't be tempted to buy in big quantities. Check it out first with a small purchase. If you are satisfied, then only repeat your order for the same.