Dish racks come in all shapes and sizes. If you have a big kitchen with lots of counter space, then you won't have as much headache choosing a dish rack compared to someone else who lives in a small apartment with a tiny kitchen. Thus, if space is a luxury, then you will definitely want the best folding dish rack or a collapsible one. One that straddles over the counter is also a good option.
These few dish drainers shown below are all foldable. Check them out and see if any of them would have a place in your kitchen.
OXO Good Grips Convertible Foldaway Dish Rack
At a glance, the OXO Good Grips dish rack looks like any other. But on closer inspection, you will notice some parts are foldable to make the whole rack more compact for storage.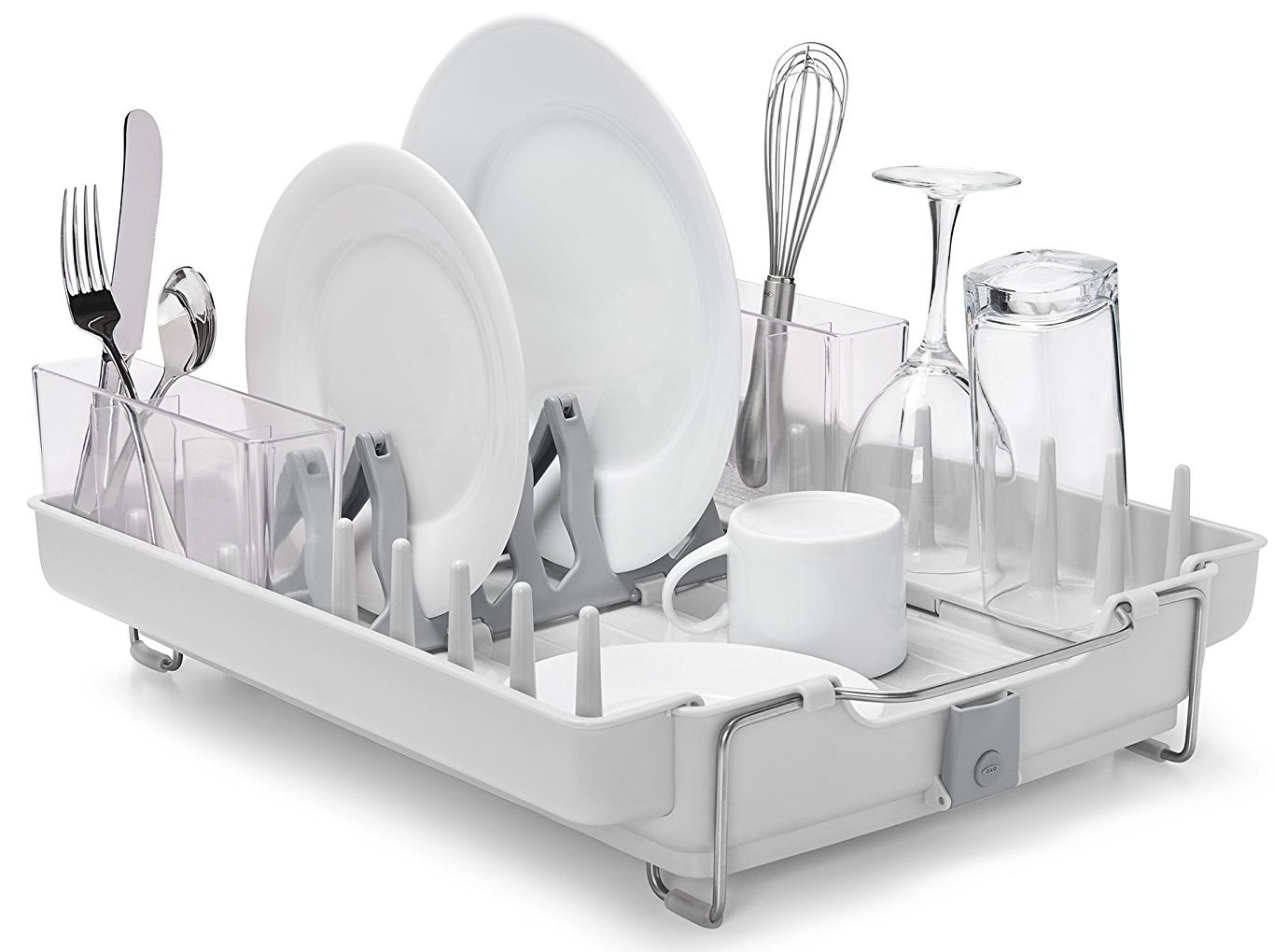 The dish drainer has a dimension of 19.4″ x 15.5″ x 5.125″. Inside, you will find a plate rack with 6 slots available to dry your plates and cutting board. This plate rack can be folded down if you wish to dry bowls and other large items instead of plates. There are also 5 tines on each side to hold cups, mugs and glasses. With them sitting inside the rack, your counter will remain dry with no water dripping everywhere. There are 2 utensil holders as well and these are removable. As such, cleaning is made easier and you can also free up more space on the rack when removed.
The dish drainer has a spout which enables you to drain the water directly into the sink. Both the spout and legs are foldable. On top of that, the sides walls can also be folded in. So, with it being a folding dish rack, what you have for storage would be a more compact and flatter item that will fit more easily into your storage cabinet.
The Good & Bad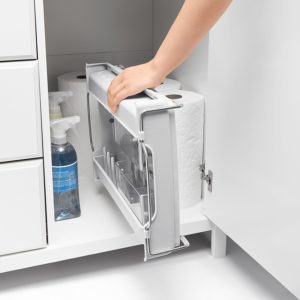 The good things that make this the best folding dish rack are:
Flexible – In a way, you can customise this dish rack to suit your current needs. Because the utensil holders are removable and the plate rack can be folded down, you can pile it up with bowls and cookware if need be. Otherwise, use it as it is for drying your plates and forks and spoons. This flexibility is seldom available with other dish drainers.
Good quality – The rack is made of sturdy plastic. It doesn't feel flimsy and it won't rust unlike cheap stainless steel dish racks.
Foldable – It folds for storage which is a space-saving solution for those with limited counter space.
The weaknesses of this dish rack include:
Tines too close together – You can't use all the tines to dry your cups because they are placed too close together. You can only use half of them on each side.
Folding parts give way – While being foldable is great, the moving parts also have the risk of wearing out and breaking off completely.
Drainage can be better – Some users will have problem getting all the water to drain completely. You might need to tilt it a little to prevent water from pooling.
Ridge too low – Certain items like cups can be hard to dry because there is little air circulation at the bottom of the rack. This is because the ridge is very low and there are no openings at the bottom.
Generally, people like the OXO Good Grips Convertible Foldaway Dish Rack because of its flexibility. It is not a cheap dish rack but it does serve its purpose for those with limited space and like to store it away after use.
Progressive Collapsible Over-The-Sink Dish Drainer
See that flat plastic dish drainer below? It doesn't look like it can be stored away, right? Well, it folds flat because it is essentially a collapsible dish drainer which makes it perfect for small kitchens. When it opens up, it is just like a plastic tub that you use to dry your dishes.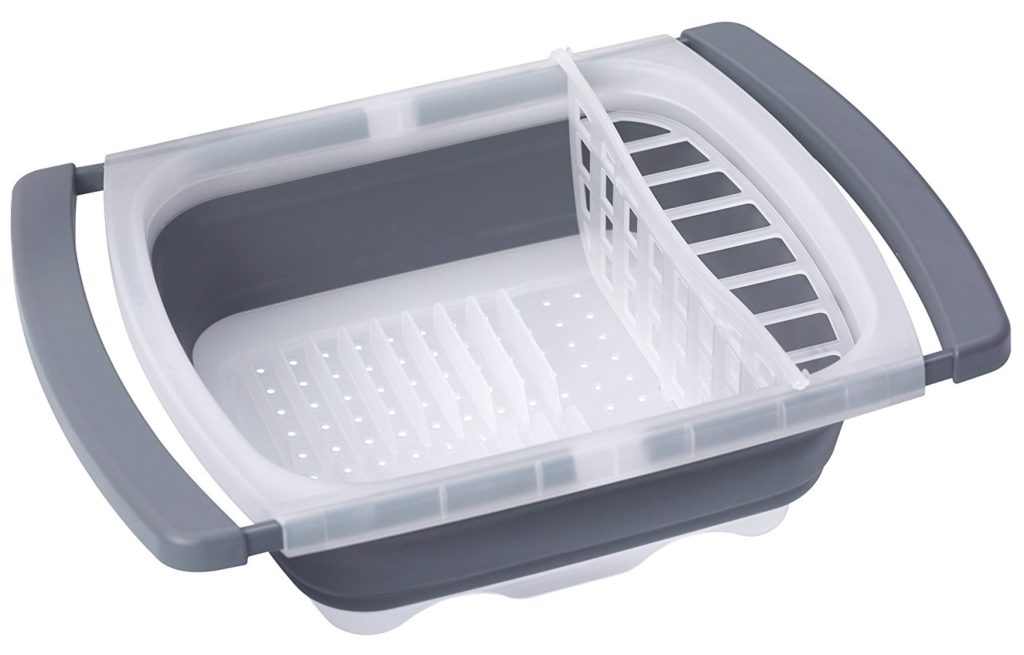 The arms are extendable to make it possible to put it over the sink. The arms extend from 16.5″ to 26.75″. The rack measures 16.5″ x 12.25″ x 6″ and when it is collapsed, it is just 1.5″ thick.
It can hold 8 plates that has a maximum of 10″ in diameter. The utensil tray is removable for more space. The whole rack is made of plastic and is dishwasher safe.
The Good & Bad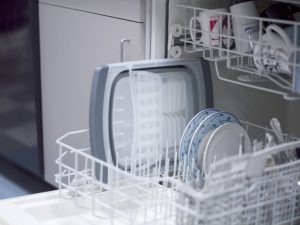 A few selling points are:
Saves space – It is an over-the-sink dish drainer which means you don't need to allocate a permanent space on the counter for drying your dishes unlike large units like the SimpleHuman Steel Dish Rack.
Collapsible – You can collapse it to 1.5″ thick and store it under your sink or other cabinets.
Easy to clean – The dish drainer can be put in the dishwasher.
But you might hate it because:
Utensil holder doesn't stay in place – The flap comes off easily when you remove your cutlery. It is not hard to put it back in place but it can get annoying.
Gets dirty – Being made of plastic, it will get moldy at some point. You will need to clean it regularly to maintain cleanliness.
Small – Some people find it to be too small to be able to fit all the dishes after one meal.
This collapsible dish drainer is cheaper than the OXO Good Grips unit above but smaller. It is best for apartments and RVs but it is still a must to check the measurements before buying to ensure that it will fit your sink.
Bamboo Folding Dish Rack
Rather than buying plastic dish racks, some people prefer wooden ones because they are less likely to turn moldy and there is less cleaning to do. A simple wooden folding dish rack also tends to be affordable and plates will dry much more quickly because they are not sitting inside a tub.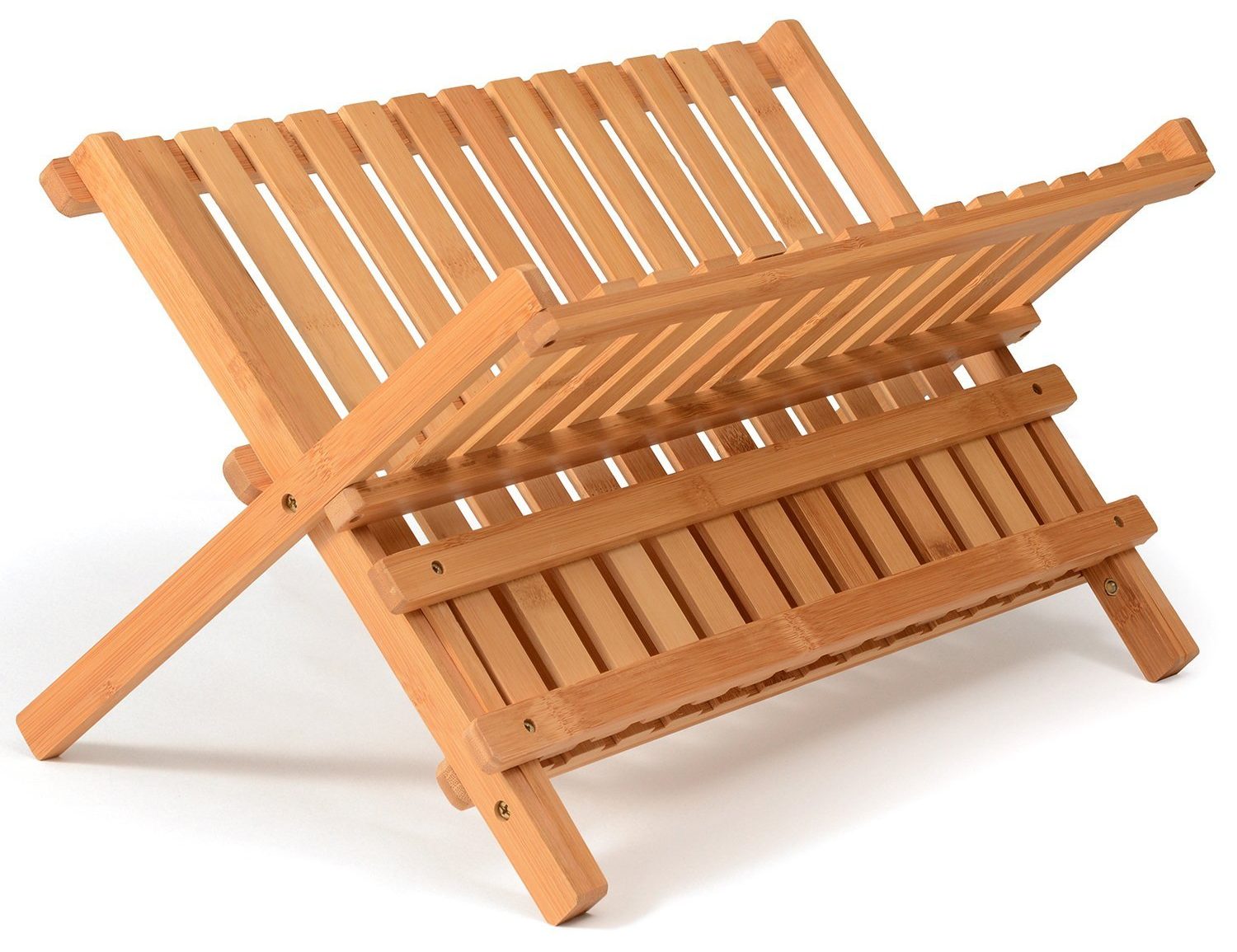 Shown above is a dish rack with 14 slots to fit your plates. There is also another rack for cups and mugs. The rack measures 10.5″ (H) x 18" (L) x 13" (W) and folds flat for storage. Made of premium bamboo, it comes in a natural bamboo color with no staining.
The Good & Bad
The good thing about this dish rack is that it is slim but sturdy. That means it won't take up much space on your counter and it is foldable once all your dishes are dried and kept away. It also looks more attractive than plastic dish racks.
The bad would be the slats can become loose after a while. You can glue them back and the rack would still be usable but it can become a hassle. Being compact, there is also no dedicated space for silverware.
Bear in mind that while bamboo is mildew-resistant, there is still a risk that mold will grow after a while even if it is the best folding dish rack out there. Drying it out completely before storing and preventing the legs from standing on a wet towel all the time will help to minimise the problem.