Most people hate doing the laundry. If you love doing it, you probably belong to that minuscule 0.1% of the global population. Well, maybe not that tiny, but you would certainly be the odd one out. Doing laundry is indeed a chore but it still needs to be done. Otherwise, you will just run out of clothes to wear. So, how to make washing clothes fun? Or at least, make the task more bearable?
Sort Your Clothes
Ever wonder why babies are always given sorter toys to play with? This is to prepare them for doing laundry later on in life. Before you wash, you have to sort your clothes. You would have had plenty of training for this task because you would have sorted one thing or another countless times as a toddler. So, you are definitely an expert on this!
Get a laundry sorter and place your clothes of different colors into separate bags. Do this each time you change into fresh clothing. Don't pile up your clothes and sort them on washing day. You will just have an additional task to accomplish. If you want to make this part more fun, stand at a distance and try to throw your clothes into the sorter like you would a basketball.
Sing While You Load Your Washer
Play some music and sing along while you load your clothes into the washer. This is called multi-tasking. It helps to shift attention from the chore at hand to something more pleasant.
Don't worry if you are a terrible singer. The windows won't break. If you are shy, you don't have to sing on top of your voice either. No point entertaining the neighbours for free. Just sing to entertain yourself while you go about your task of washing clothes.
Do The Chore Together With Your Other Half
Rope in your other half to do the chore together. When there is someone to banter with in the laundry room, time will pass by quicker and the task will get finished faster too. Washing clothes will seem less dreadful as a result.
However, for some people, the chances of getting their partner to help out is close to zero. If you are in this same situation, you can try convincing him to be a nudist. There will be fewer clothes to wash and less time spent on this chore.
Hang A Funny Sign In Your Laundry Room
Try hanging a funny sign somewhere in your laundry room. Whenever you read it, it should put a smile on your face. Like this one here: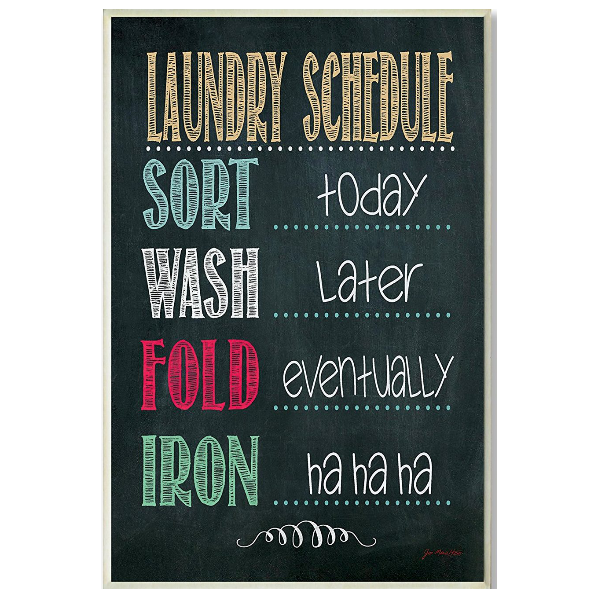 Treat It Like A Game
Take a stopwatch and time yourself loading the washer. See if you could do it faster the next round. You can do the same for hanging up your laundry. If you can beat the clock, you can reward yourself with ice cream, chocolate or whatever. You might have a ton of motivation to wash your clothes then.
Well, it doesn't necessarily need to be about speed. You can be creative and come up with other ideas that take on the concept of a game so that the chore can become more fun. Maybe you can guess the number of clothing in your hamper. Whatever it is, just make sure your reward is small and realistic if you win. To go out and buy a diamond ring because you guessed the correct number of clothes in your hamper while doing laundry isn't exactly how it works to make washing clothes more fun. Or maybe it is?
The above tips are just a few ways to make this chore more bearable. Whether we like it or not, we still need to do it. We can choose to make washing clothes more fun each time or we can keep putting it off until we have no clothes left to wear and forced to do it with great reluctance. So, why not choose the former, right?