You might think dinosaurs are meant for toys and books for the kids. Well,  you are wrong. These pre-historic creatures have also inspired designs for many types of items just for grown-ups. You can find dinosaur designs on shirts, socks, pendants, lamps, rugs,
drink coasters
and many others. In fact, there are many dinosaur related gifts for adults to take advantage of those who are into these special creatures. There are also fun dinosaur kitchen gadgets and accessories which look cute and yet, functional. These will make great gifts too for the home cook. So, check out a few of these kitchen stuff below and see if they will have a place in your kitchen.
Fun Dinosaur Kitchen Gadgets And Accessories
Krierah – Dinosaur Soup Ladle
This is a very cute soup ladle that is made of BPA-free nylon and non-toxic.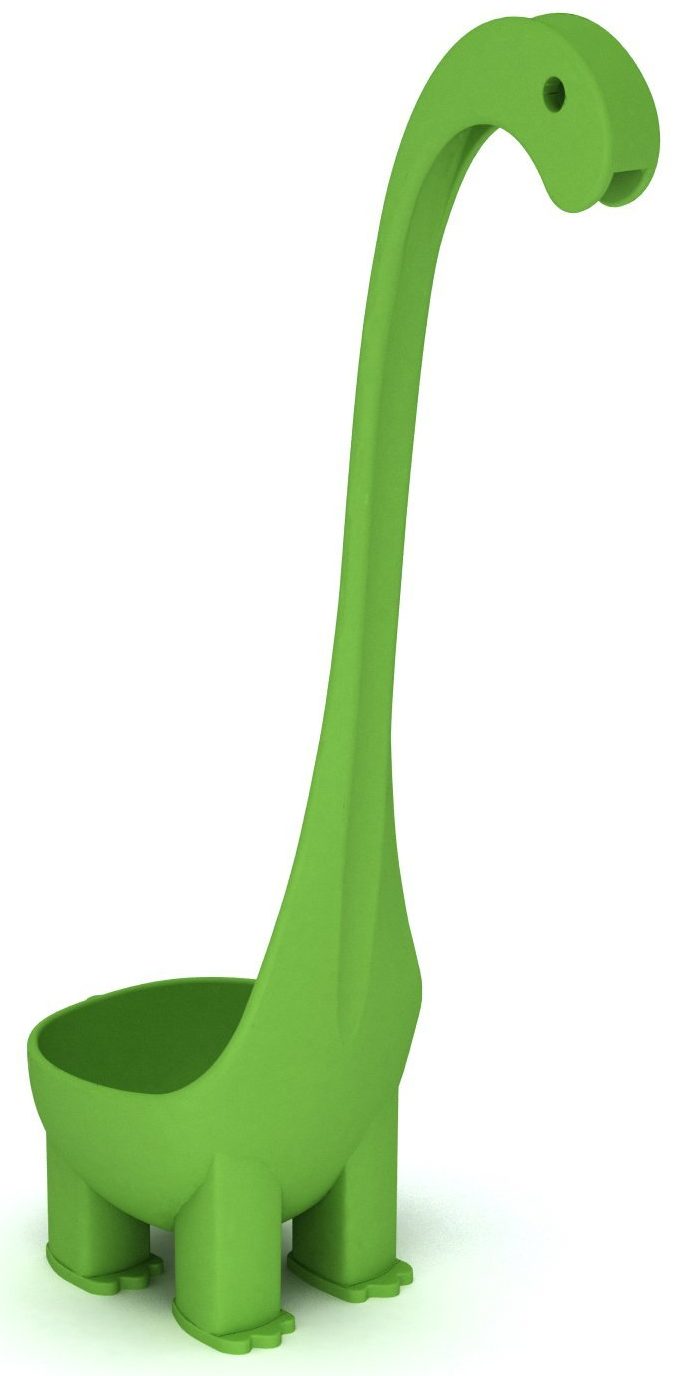 It is sturdy and has legs to make it stand upright in the pot. The curved neck also ensures it won't slide straight into the pot. Heat resistant up to 400°F, it has a capacity of 6 0z or 180 ml per scoop. It is 12″ tall and has a smooth surface which means it won't scratch the surface of your cookware.
If you have young kids at home, this is a good reason to get this super cute dinosaur kitchen accessory. They will be thrilled to see it at work or just sitting there on your kitchen counter compared to the standard kitchen utensils that you normally buy. It has great details for a ladle with toes visible for the feet. It is also well-balanced which enables it to stand on its own. This is practical because your ladle won't end up inside the pot.
While being able to stand on its own is awesome, the feet could trap residues and washing up is not as simple as the normal ladles that you use. Also, it may be too bulky to effectively scrape the bottom of the pot.
Nevertheless, it is an adorable dinosaur kitchen gadget. You buy it for the design and looks. The practical aspects may be lacking compared to the usual ladles, but if you don't mind the minor inconveniences, then it is a fun accessory for a more cheerful kitchen.
Fred PASTASAURUS Pasta Server
If you cook pasta at home, you will need a pasta server. So, why not engage in a bit of fun and get the PASTASAURUS?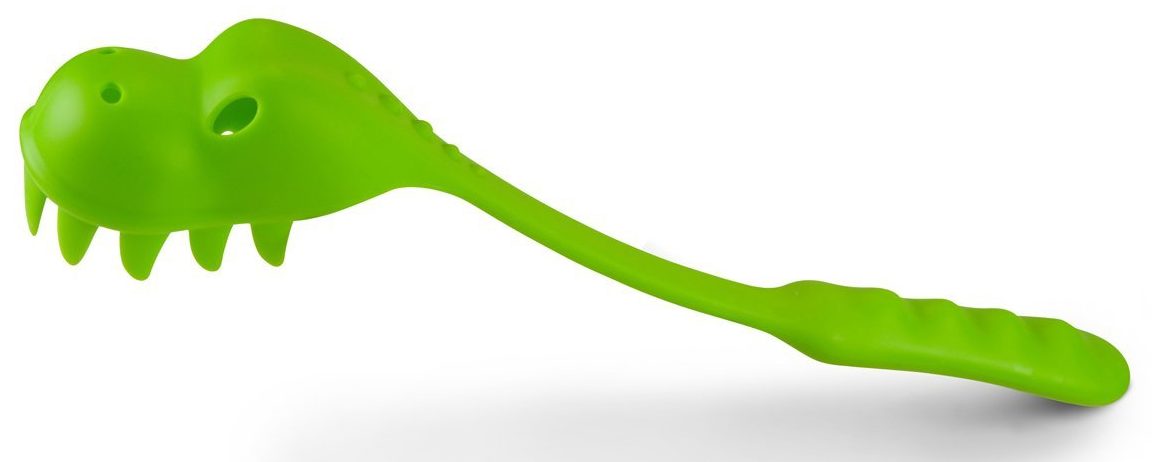 This pasta server is made of polypropylene. Is is designed like a dinosaur head with teeth to snag the pasta. The eyes and nostrils are holes which will help to drain away any liquid. The PASTASAURUS is also dishwasher safe.
There are quite a few reasons why you should get this fun dinosaur kitchen gadget. It is durable and can last you a number of years. Even with regular contact with pasta sauces, it won't stain and can be easily cleaned. Furthermore, it is cute but also works reasonably well. It is sturdy and the size is just right for the function it serves.
The downside is this pasta server is not really great for mixing. While it does the job well enough, the teeth is also too far apart to get a good serving for some people. It won't work as well as traditional pasta servers, but it has a combination of unique design and function to make it a worthwhile addition to the kitchen.
Green Brontosaurus Dinosaur Salt & Pepper Shaker Set
Unlike electric salt and pepper grinders which is about convenience, the Green Brontosaurus Dinosaur Salt & Pepper Shaker Set is about cuteness.
The set is made of ceramic with a magnet to keep them together in a necking pose. The bigger dinosaur has 3 holes on its back while the smaller one has 2 holes.
This would attract conversation if you leave it on your kitchen counter. It is a cute set and some people even buy it just to use it as decor rather than as salt and pepper shakers. It is also suitable as a wedding cake topper.
However, not everyone likes magnetic salt and pepper shakers. The magnets will get weak, detached or broken over time. Moreover, having to pull one away from the other can be a hassle during cooking. So, it is a matter of personal preference. But whatever it is, the Green Brontosaurus is a fun dinosaur kitchen accessory for those who like the whimsical.
TriceraTACO Taco Holder
If you want to encourage your kids to try making tacos, this holder would be a perfect item to get.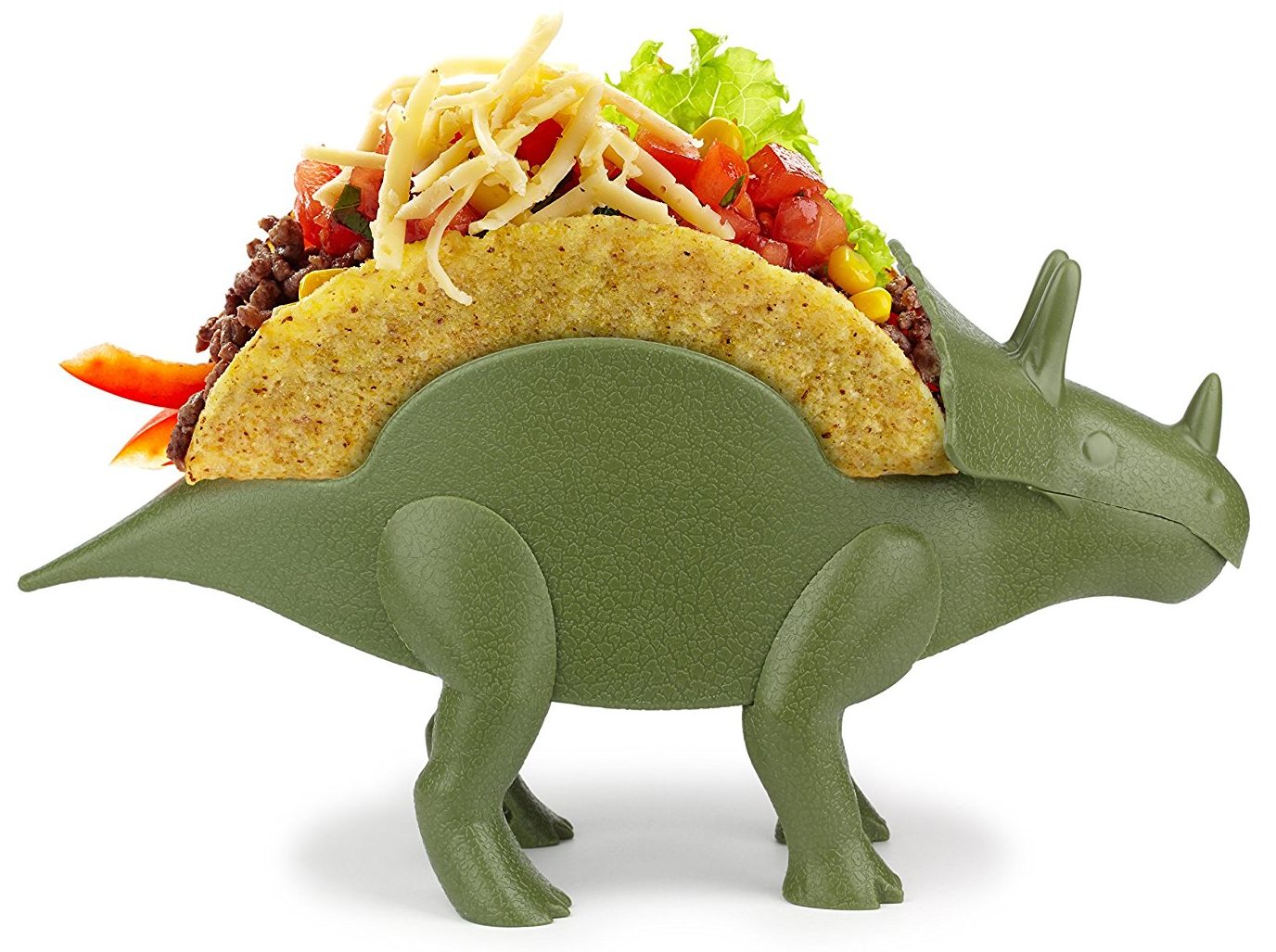 It has 2 slots for 2 tacos. It is made of food-grade polypropylene which is BPA, lead and phthalate-free. It can't be put into the microwave but it is dishwasher safe.
This would be exciting for the kids but also entertaining for the adults. It looks cute while it has tacos sitting in the slots. It also helps to make it easy for the kids who want to make their own tacos. If you don't mind, this could end up as a toy after eating is done. Apart from tacos, you can also use the slots to hold cookies and similar food.
The not so ideal factor is the size of the slots. Not all taco shells will fit. So, it could be too small for some people. Also, it is harder to hold up soft tacos because of the short sides. But if you have kids, this is really a fun dinosaur kitchen gadget that you could buy to add to your collection.