Our desktop can get dusty and dirty with food crumbs, pet hair and shreds of paper all over. You can either wipe it clean with a wet cloth or vacuum the dust and small items up. But wiping will require you to wet a dust cloth and rinse it after it is done. This could be a tad troublesome. On the other hand, getting the big vacuum cleaner out just to clean your desktop is also an overkill. It might also be too large and may suck up important notes or stationery lying on your desk. So, why not use a mini version? For that, let's check out the Henry desktop vacuum cleaner review below to see if a miniature vacuum can actually work with desk clean-ups.
Henry Desktop Vacuum Cleaner Review – The Features
The actual Henry Professional Canister Vacuum Cleaner will set you back a few hundred dollars. But the desktop version is far, far cheaper at around $20. It is a battery operated appliance that requires 3 AAA batteries for the motor to work. These batteries are not included in the box.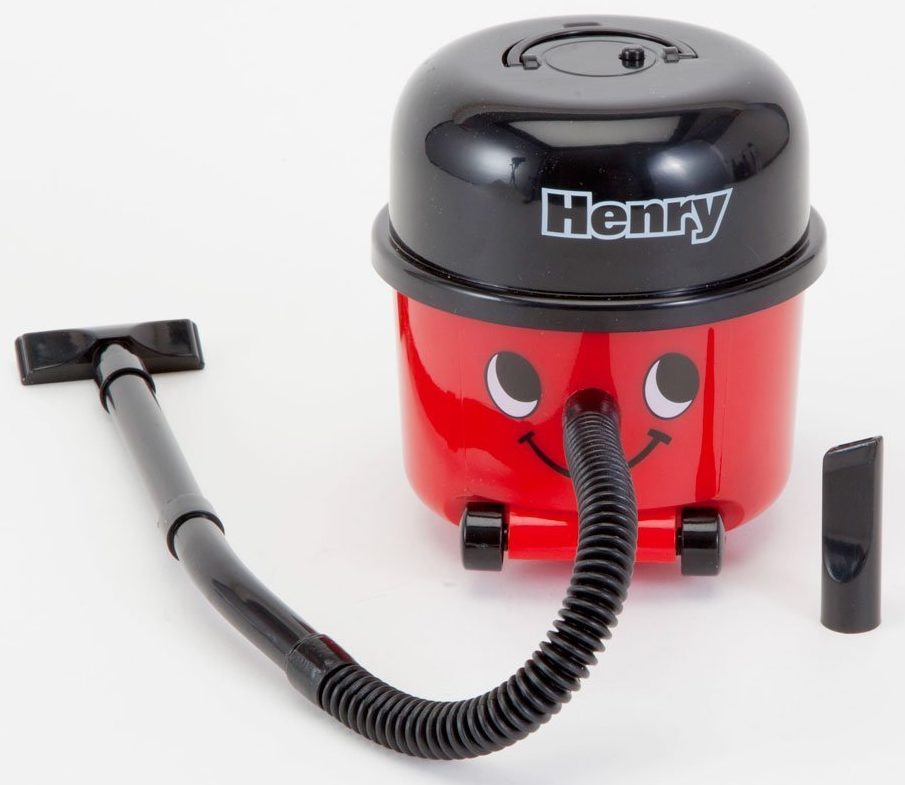 There are 2 vacuum attachments included to pick up dust and crumbs in tight spaces. You can store all the tools and accessories inside the vacuum. The head turns to detach from the body.
Once you have inserted the batteries, you can then push a button at the top to turn it on and off. You also need to angle the vacuum head for better suction. Just like a normal vacuum cleaner, the body which takes in the dust and crumbs need to be emptied regularly and the filter must be kept clean for optimum performance.
Below is a short clip of the Henry desktop vacuum cleaner review to let you see how well it sucks things up.
Pros And Cons Of The Henry Desktop Vacuum Cleaner
The reasons for buying this mini vacuum include:
It is cheap. You don't have to spend a lot of money to get this mini Henry vacuum to clean your desk.
It is cute. Like a cute scotch tape dispenser, this mini vacuum is adorable and yet, functional as an office desk item.
It works. While the suction is not very powerful, it can suck up light particles such as crumbs and dust.
It is easy to store. All the accessories fit nicely into the body of the vacuum. This ensures no parts are lost easily.
The usual complaints on this desktop Henry are:
It has poor suction power. You may not be able to feel any suction power at all when you place your hand at the vacuum head. So, what it can pick up is pretty limited.
It is more of a novelty item. Because it doesn't really work for some people, the replica just seems more like a novelty item. Like funny notepads that cheer up the office, the function of the Henry desktop vacuum cleaner is also similar – to invite conversation and laughs among co-workers.
Should You Buy It?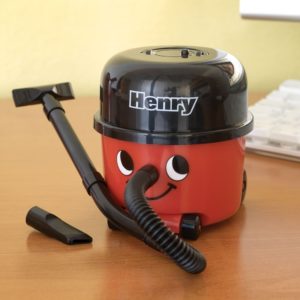 Whether you should buy it or not will depend on what you are using it for. If it is just to suck up dust on your desk, this should work. But if you expect it to pick up everything quickly and effectively like the big version, this item isn't the one to get.
Think of it as a toy vacuum. As the Henry desktop vacuum cleaner review shows above, it does work but at a limited power. If you can make do with toy-level suction power, then you will not be disappointed. This is true of most USB desk vacuums. You just cannot expect a cheap desktop vacuum to perform like a floor unit. As such, don't spend too much money on it. $20 is a fair price to pay for its function and novelty. So, check out the current price to see whether you can get a good deal out of it now.