iPads and other tablets are fast becoming a necessity in our daily life. We use them to scan for news, surf the web, watch movies and even read a book. They are small and convenient to be carried from one spot to another, including the bed. But this is also where it starts to become cumbersome. This is because it is tiring to be holding the iPad up when you are lying flat on your back. Your muscles would feel sore and it certainly won't be comfortable. So, which is the best iPad stand for bed that will allow you to lie back and look at the screen without worrying that the tablet will fall flat on your face? Check it out below.
Best iPad Stand For Bed – LEVO G2 Deluxe
This iPad stand holder has a sturdy construction wth a minimum height of 30″ and maximum height of 56″. It has flip lever height locks and 5 axis articulating swing arm for quick positioning. So, you can swing, tilt and spin to get that perfect view of your device. It also includes wheels to make it easy to push it from room to room. Apart from iPad, it can also fit most other tablets including Galaxy, Surface and Fire.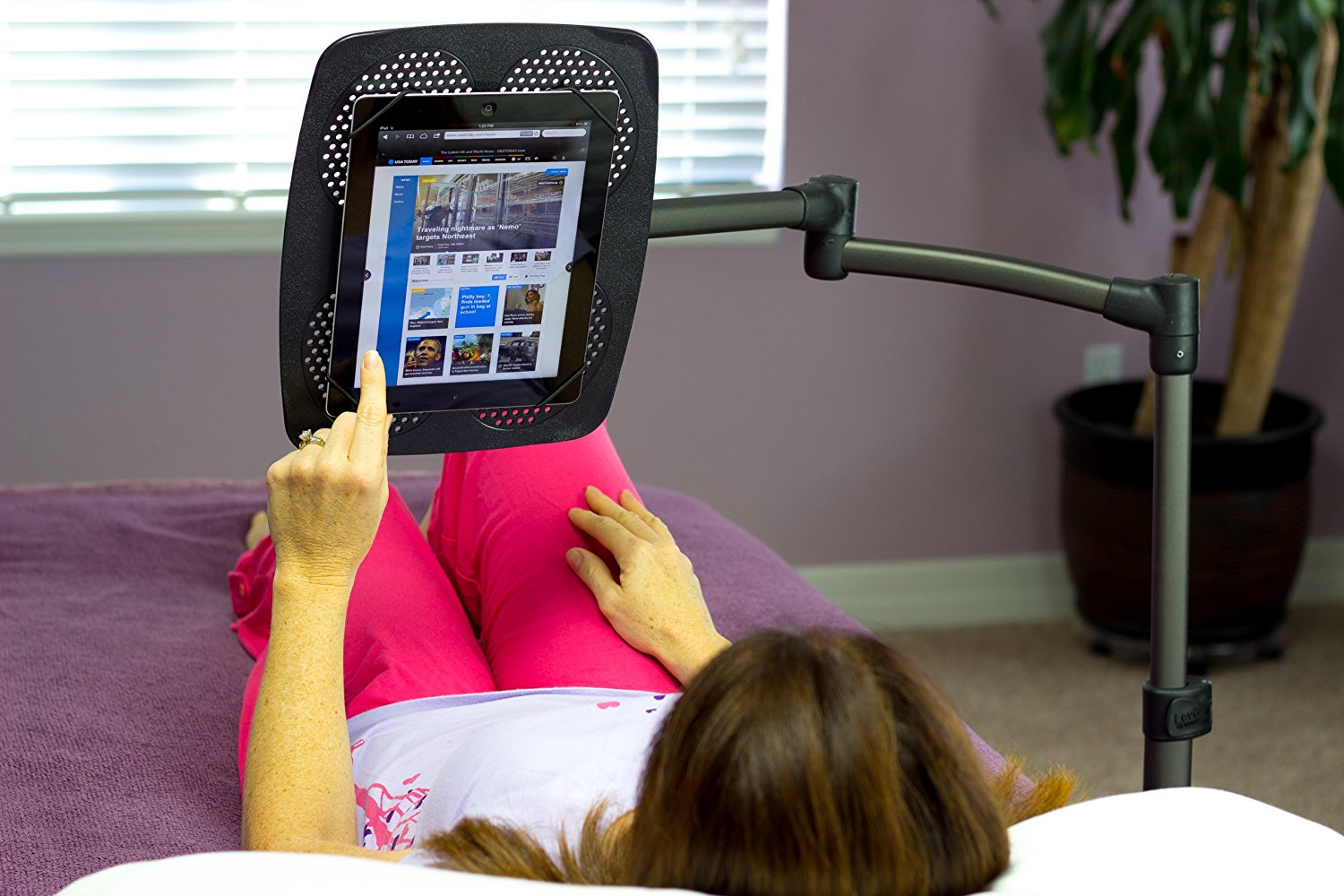 You don't need any clearance underneath your furniture because the swing arm will allow you to get the angle that you want. All you need to do is just to grab the platform and swing to get the best view. You can also swing it away from you when you need to get up. Swing it back when you return and the height and angle will remain unchanged. You can also spin it to get a landscape or portrait view.
The platform is designed with many small holes on the surface. This is to allow elastic bands to go through and secure the tablet. This is why this iPad floor stand can accommodate different tablet sizes. You just need to adjust the placements of the elastic bands for the 4 corners of your tablet to get the most secure position.
LEVO G2 Deluxe iPad Floor Stand Review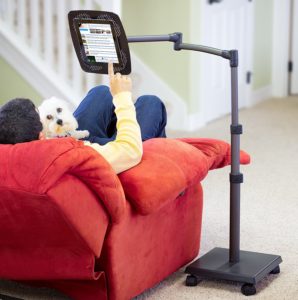 If this is the best iPad stand for bed, what are the selling points to make this a good buy?
Flexible – You can be at your desk, reclining on a chair or lying in bed. It works for all positions to eliminate the need to hold your tablet and look down at the screen. This has been a cause for a lot of neck problems in recent years. Therefore, getting this LEVO tablet stand is a good investment for health reasons.
Sturdy – You don't want a iPad floor stand that will topple easily. This will risk damaging your tablet. The LEVO Deluxe is very sturdy and has a heavy base. This means it won't bounce or move when you swing the arm or type on your tablet.
Can fit more than 1 device – Many people now have more than 1 device. Or you might change yours from one brand to another. But a good thing about this LEVO tablet holder is that you can use it for all kinds of tablets including iPad Pro, iPad Mini, Surface Pro, Samsung Galaxy, Nook and other e-readers.
Mobile – The stand has casters that enable it to be moved from one room to another with ease.
Even though we feel that the LEVO Deluxe is the best iPad stand for bed, there are still a few unflattering aspects about this item. Well, nothing is perfect as people say.
Casters don't lock – It is not a big problem but if you have toddlers or pets, you might need to be careful as it can glide pretty easily across hard floors.
Elastic bands may loosen – Over time, those elastic bands that keep your tablet in place will become loose. But the mitigating factor is it should be easy to get replacements for those bands.
Another set of elastic bands would be nice – If you have 2 different devices, you will need to change the position of the elastic bands each time you switch between the 2. So, it is a hassle. But you can buy another set of the elastic cords and leave them affixed to accommodate the different sizes.
Is The LEVO G2 Deluxe Worth It?
The price is expensive for the LEVO G2 Deluxe. You are paying over $150 for this stand holder. But it is the best iPad stand for bed out there because of its weight, sturdiness, flexibility, mobillity and reach.
If you find this is too expensive, you can get the LEVO G2 Essential. This costs much less, at times more than $100 cheaper than the Deluxe model. But if you compare the LEVO G2 Essential vs Deluxe, you will find that the Essential only has 4-swing arm movements and a lower height (26″ to 43″ vs 30″ to 56″) as well as a shorter reach (13.5″ vs 18″). The Deluxe has 5 swing arm movements and the arm folds. This means you don't need to push the whole stand away from you when it's time to get up. The Deluxe also has casters while the Essential doesn't.
The Delxue has a 20-lb base. The whole stand weighs 28 lbs. On the other hand, the Essential only weighs about 6 lbs. This is where the vast difference in price makes it justifiable. It is simply the best in terms of stability. This is an important consideration when you have pets and young children in the house.
Other Options
If you want something small and not willing to spend so much, the Tablift is another popular choice for a iPad stand for bed. It is compact because you can fold up the legs. The flexible legs also means it can be laid on an uneven surface like a bed.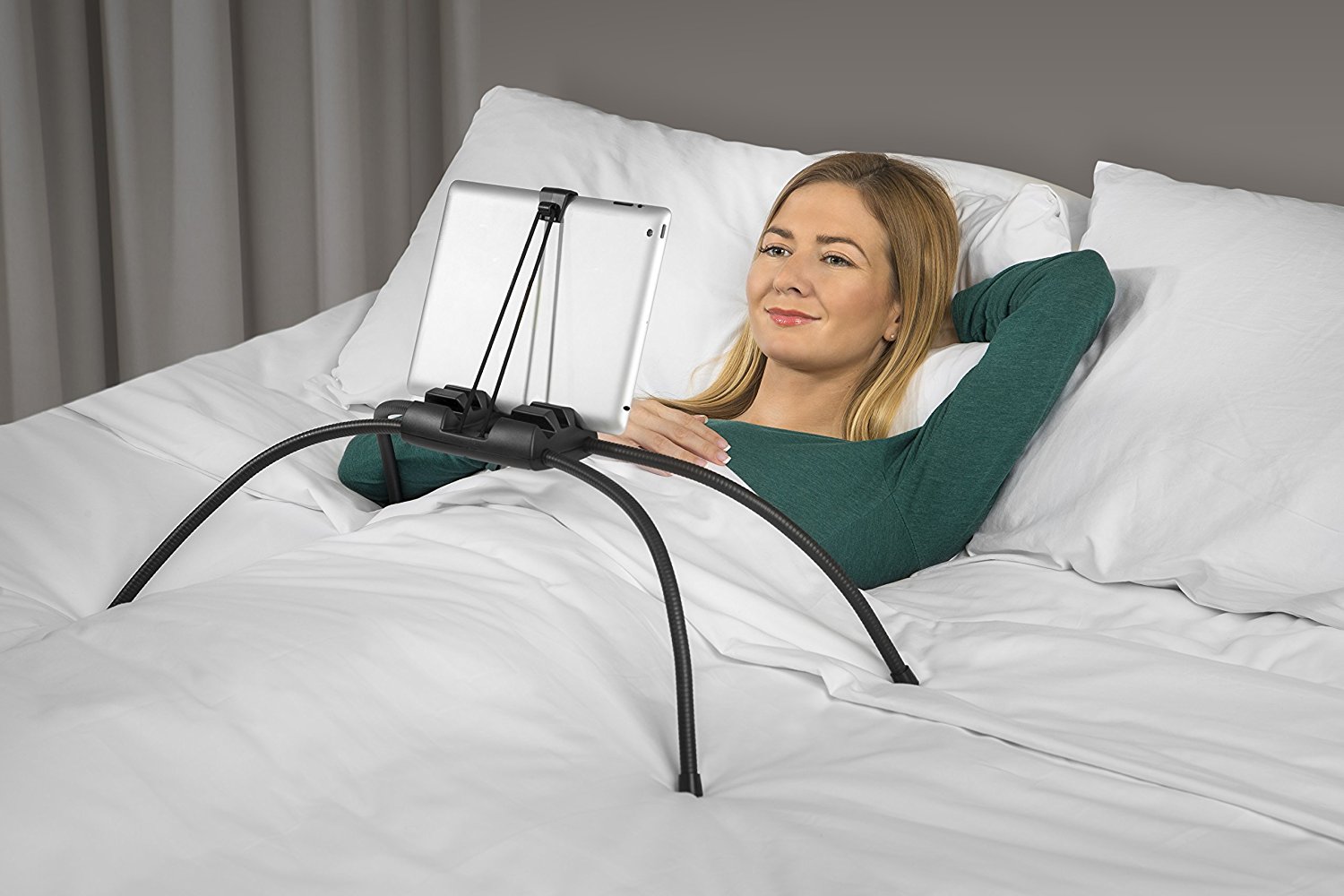 Like the LEVO G2 Delxue above, the Tablift can be used for iPads, Galaxy, Nexus, Surface Pro and other models. There is a 10 mm wide slot which your tablet must be able to fit into but most models should be compatible with the Tablift.
It has a multi-angle feature which enables you to use it when you are at your desk, couch or lying down in bed. It is also much cheaper than a floor stand which makes it much more affordable for those on a tight budget.
But my preference would still be for the LEVO G2 Deluxe although it will cost a lot more money. This is because the Tablift is much more restricted in its height and reach. You are also pretty much boxed in by the legs of the stand. Thus, changing position while in bed would not be as flexible compared to using the LEVO G2.
Whatever it is, you don't need to buy the best iPad stand for bed if you can't afford it But you do need one that you can afford. It is a necessity for preventing muscles from aching and sore necks due to the hours spent on our tablets nowadays.