Everyone loves wearing flip flops. Not only are they comfortable but also convenient to slip on and off. They are perfect for a trip to the beach or just a walk down to the corner shop when it isn't freezing cold outside. Since flip flops are popular, there are plenty of designs out there from simple to fancy. There are even novelty and funny flip flops to cater to those with a sense of humor. The price range can also vary widely with branded shoe brands commanding a high premium compared to little known brands. But what is important is that they must be comfortable. Below are a few of the most comfortable flip flops for women that you can buy.
Most Comfortable Flip Flops For Women – The Options
Clarks Women's Breeze Sea Flip-Flop
This is a lightweight pair of flip flops in synthetic uppers. It is available in a variety of colors including less common colors such as gold, turquoise and salmon.


The heel height is 1.18″ with cushion soft comfort technology. The design is carefree and casual with a fabric thong and fun printed footbed.
Most people find the Clarks Breeze Sea flip flop to be super comfortable. They heel is elevated and padded which gives additional comfort if you are wearing them for hours. This may help to reduce aching feet, especially when you have been walking and standing in them for a while.
The strap that goes in between your toes are soft enough not to cause redness to the skin. You can also adjust the top strap for tightness as it has a Velcro strip. This works great for people with narrow feet as they are able to tighten the straps for a better fit.
The problem with these flip flops though is that they are not available in half sizes. So, it could be a little too big or too small for some people. While they are better for narrow feet wearers with the adjustable straps, those with wide feet may find the straps digging into the skin after walking in it for a few hours. However, you can overcome this by getting it in a size that is slightly larger rather than trying to get it to fit perfectly if your feet is wide in shape.
Sanuk Women's Yoga Mat Flip-Flop
This is another synthetic flip flop with plenty of colors to choose from. Some of them have high color contrast  between the straps and the footbed.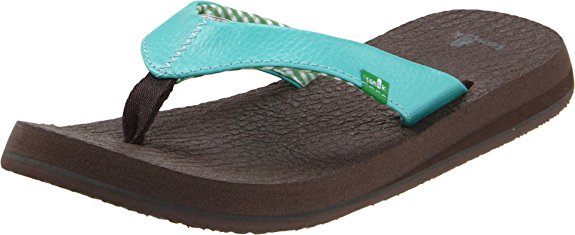 The Sanuk Women's Yoga Mat flip flop has a rubber sole with a heel that measures about 0.75″. The platform is about 0.5″. The footbed is made of yoga-mat while the strap is synthetic with a soft webbing toe post. It has a rubber sole and there are also smiley face indentations on it. This means it will leave smiley faces all over as you walk in the sand wearing this pair of flip flop.
This is one of the most comfortable flip flops for women because it is light and flexible. The yoga-mat material is kind of squishy which means it is soft on the feet. This is comfortable for most people. The underside of the strap is also padded which is less likely to dig uncomfortably into your skin to make it raw. Again, if your feet is wide, going bigger may be a better option than trying for one size smaller.
Like the Clarks Breeze Sea, the Sanuk Yoga Mat is also not available in half sizes. Some buyers have also complained that the sizes are now smaller compared to those bought a few years ago. So, do bear that in mind when shopping for a pair.
Reef Women's Stargazer Sandal
As you can see below, the Reef Women's Stargazer Sandal is very simple in design. It just has a logo detail on the footbed near the heel.


It is a synthetic flip flop with a rubber sole. The heel is about 0.75″ high. It has a glittered thong strap which is made of rubber and a soft EVA footbed. The straps are available in various colors including bright ones like neon pink and neon yellow.
One of the reasons to get this is its comfortable footbed. It feels there is cushion to the feet although it doesn't feel too soft either. Over time, it will get more comfortable as it forms to the shape of your feet. The sole also has traction and it doesn't feel slippery on most surfaces.
However, some people do not like it because the rubber straps cut into their feet. The friction caused by the straps can be painful because of the material. Hence, if it is too snug, they won't be the most comfortable flip and flops for women that you can buy. Those with wide feet tend to have this problem. Therefore, be extra careful about the sizing before you buy any flip flops for that matter.