A plain wall is boring. But you will need the right picture if you want to enhance the decor and transform the place. So, the picture must attract attention and is the first thing that catches your eye to make you go 'Wow!' when you step into the house. Then, you will know you have a winning piece.
Besides painting, metal art can also be used to decorate the walls. With better technology and tools, this type of wall art has become common and affordable. People like it because it can produce different tones under different lightings and can be hung both indoors and outdoors. A unique metal wall art can transform the home into a classy and modern living space.
Large Metal Wall Art
The Ripple Effect is an abstract metal wall panel made of rust-proof, high quality aluminum. This means it is also an outdoor metal wall art since it is weather-resistant. The dimensions are 68″ x 24″ x 2″. The spacing between each panel is about 1″.
You will find pre-installed brackets to make it easy to hang. Being an aluminum artwork, it is also lightweight. Don't worry about the proper spacing for the panels as a guide tool is provided. This work will look great if you have lights illuminating it as it will bring out the fluidity of the ripples, making it more dramatic and thus, drawing you into the picture.
The Ripple Effect is a unique metal wall art because it is handmade. Every piece is one of a kind and the best thing is it is American made.
Colorful Unique Metal Wall Art
The usual metal wall panels are silver in color. This one entitled From Dusk til Dawn is multi-colored to make it really stand out in a room. It automatically becomes the focal point with its colorful contemporary design. When the light changes, the artwork also changes color to make the trees more life-like.
There are 5 panels for this modern metal wall art and measures 24″ x 64″. It is made of aluminum and hanging is made easier with its light weight. A hanging template is also provided as well as pre-installed brackets for fast and easy mounting.
With a tree on each panel, you can stagger them when hanging or create other options instead of having them side by side. There is flexibility and it all boils down to your imagination how this will look best in you room.
3D Metal Wall Hangings
This is a 3D metal wall hanging that is simple and yet, eye-catching. You don't always need a square or rectangle piece of artwork for your wall. If you have a plain wall that is a little narrow, this metal wall art wave sculpture will fit in perfectly.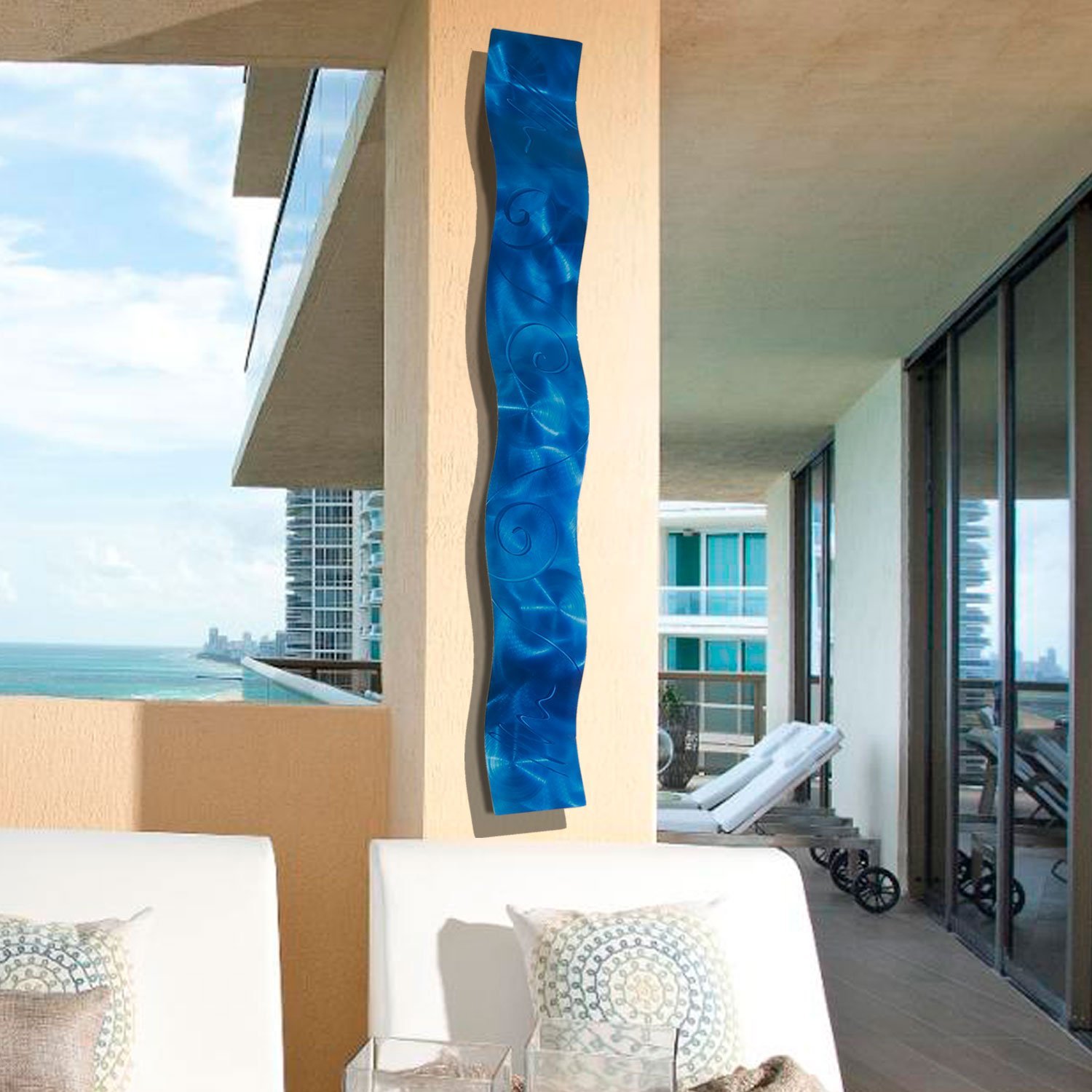 This design comes in a variety of colors including blue, silver, green, red, copper and yellow. It is also cheaper than the two metal artworks above. Made of aluminum, it is lightweight and highly reflective. Under the right lighting, it can have a dramatic effect with its wave design.
This metal art wall hanging measures 46.5″ x 6″ x 2″. You can also hang it horizontally instead of vertically.
The Advantages Of Aluminum Wall Art
So, why should you choose an aluminum wall art over other types of metal? In fact, aluminum is getting popular as the metal of choice for artwork. This is because it is lightweight and do not rust compared to steel and copper.
There are many grades of alumium. The low grade aluminum can be torn easily but not the high grade ones. So, an aluminum artwork does not necessarily mean lower quality compared to other types of metal artwork. After all, there are many engineering parts that are made of aluminum too.
Furthermore, aluminum gives off brighter tones when colors are applied compared to other types of metal. This can result in spectacular artwork that easily catches the eye.
So, fancy putting up a unique metal wall art at home?