How much are you willing to spend on a dish rack? If you can get one that costs less than $20, would you pay 4 times that for better quality? After all, it is only a rack that you use to dry your plates, cups and cutlery. While some might think this is ridiculously expensive, there are others who feel it is worth every penny. As the following SimpleHuman dish rack review shows, a high end unit will have its selling points to make it worth the price paid. But it would also has its drawbacks. Check it out further to see if it is worth paying for this premium dish rack.
SimpleHuman Dish Rack Review – The Features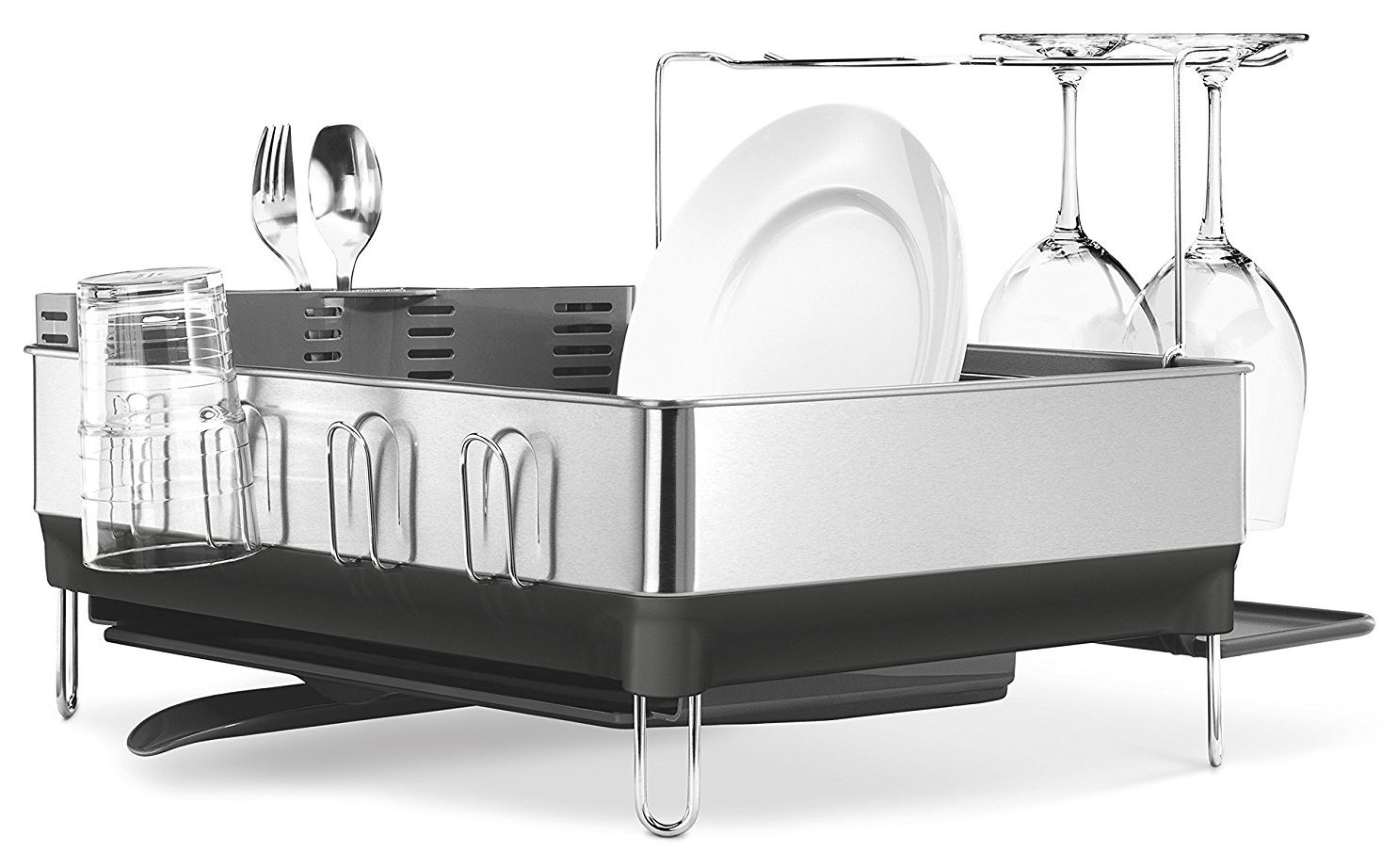 The main features of this dish rack include:
Steel frame
Swivel spout for drainage
Fingerprint-proof finish
Wine glass holder
Utensil holder
Cup holder hooks
Anti-residue coating
Extendable drip tray
8 plate slots
Dimensions: 20.2″ (W) x 21.8″ (D) x 14.3″ (H)
The SimpleHuman dish rack will blend in well in a modern kitchen with its steel frame. With many kitchen appliances now having a steel look such as fridge, microwave and toaster, a steel dish rack will fit just right in to complement the existing decor. In fact, SimpleHuman also has a stainless steel sink caddy for your dish sponge and soap which will be a perfect match to this dish rack.
But apart from the looks, it also has great functional features. Firstly, the drainage system has a drip tray with a swivel spout. Hence, you can place this long or shortways and rotate the spout to drain water directly into the sink. Secondly, there are holders for cups and mugs on the outside of the rack. This means you will have more space on the inside for other items such bowls and cookware. An extendable drip tray also ensures water would not drip directly onto the counter where your cups are.
Thirdly, there is a wine glass holder which you can hang on the outside of the dish rack as well. This holder holds up to 4 wine glasses. Lastly, there are 8 slots for plates inside the rack. The middle one is extra wide for thicker plates and cutting board.
Other features include a fingerprint-proof finish to keep it looking spotless and an anti-residue coating on the plastic drip tray to minimise residue build-ups. This special coating will cause water to spread rather than pool which leads to quicker drying.
The Pros & Cons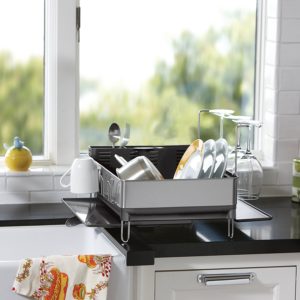 For this SimpleHuman dish rack review, we have found the following good points:
Big – The dish rack is pretty big and should be able to accommodate all the dishes for a small family after a meal.
Spout swivels – The drainage spout can rotate 180 degrees. This means you can choose which way to place your dish rack taking into account your counter space.
Tall legs – The legs are tall enough to enable the water to drain directly into the sink through the spout. Some dish racks have legs that are too short and hence, the spout gets obstructed by the lip along the top of the sink edge.
Wine glass holder – Not many dish racks have a separate wine glass holder which you can hang on the side. This reduces the clutter inside the rack and minimises the risk of breakage if your glasses are fragile.
The cons are:
Takes up space – Because it has a big capacity, it will take up space on the counter. In fact, it can look bulky to some. It is not a folding dish rack either, so you would need to allocate a permanent space for it.
Rusts – Some users have complained that it rusts after some time. The unlucky ones have seen rusts in less than a year of use.
Hard to clean – There are parts to clean and some are difficult to reach. For instance, you will need to unscrew the spout to clean it properly because it will get moldy after a while.
Rubber seal pops off – There are also complaints that the rubber seal around the inside edge pops off easily.
Should You Buy The SimpleHuman Dish Rack?
As this SimpleHuman dish rack review has shown, this item is not perfect. You still have to keep it clean with regular washing like how you would maintain a cheaper dish rack. There is also no guarantee when it comes to rust. You will still need to have it replaced when it turns rusty eventually.
So, for the price it is selling at, it is a big risk to take indeed. It is worth it only if you need a big rack that drains directly into the sink whereby the models are more limited. If you can live with a smaller unit, you can save your money and look at other disk rack choices.