If you are a big Star Trek fan, then this is a no-brainer. You will just get it on the spot. Whether it is worth the price is perhaps, secondary. This is because it is like a collector's item. You don't want to miss out. But if you are not that crazy about Star Trek, is this door chime still worth a buy? The Star Trek Electronic Door Chime review below will try to flesh out the features and what it can do.
Who knows, it might turn out to be one cool door chime after all, whether you are a fan or otherwise!
Star Trek Electronic Door Chime Review – Features
The features for this unique door chime is as follows:
Motion-sensitive
3 sound settings
Volume control
3 AA batteries to operate
Size: 6.5″ x 5 .25″ x 1″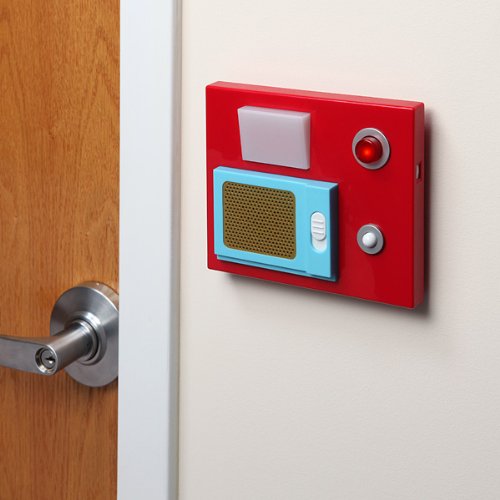 You can mount this door chime on the wall as the back has 2 holes for hanging purposes. Whenever someone walks past, the door chime will sound due to its motion-sensitive design. You can choose between 2 types of sound here – a door opening or a red alert sound. When the red alert is triggered, a red light will also blink as warning. The third setting is an intercom whistle sound. This one will be triggered when someone presses the white button.
You have a volume control at the back and the motion-sensitivity works on both sides. So, it doesn't matter on which side of the door you need to hang it on. It operates using 3 AA batteries.
Should You Buy It?
The reasons for buying it include:
Great for fans – It does look like the wall communicator panel in The Original Series. This is why fans are willing to spend money to buy this.
Sounds are clear – The sounds that are activated are clear and mimic those in the show perfectly.
Cool – It is a cool item that will invite conversation. You will also get a kick out of this each time the sensor is triggered.
Warning device – While it is more like a novelty item, it also serves as a warning device to alert you whenever someone is approaching. So, it does have a practical use besides just being a novelty.
The usual complaints are:
Loud – The sound is loud, especially for the red alert setting. Although there are 2 volume levels, it is still loud even on the lower setting.
Lacks visual effects – There is a white block above the speaker which doesn't light up at all.
Becomes glitchy – The door chime may become glitchy after a while. It may sound even when no motion is detected and doesn't stop.
The Star Trek Electronic Door Chime is a fun item. It can't replace a high quality door chime that you need installed for security reasons. But it can be used just for fun for certain rooms in your house. Just like funny notepads, this door chime can also lighten the mood at work when installed in your cubicle or room. It will also make a great gift for Star Trek fans since it is designed with them in mind. So, buy it today!