Transparent dining chairs add a touch of modernity to a home. While some take after the ghost chair which is inspired by classic design, not all clear acrylic chairs have this same idea. They do come in various shapes and designs to fit different types of decor. They may also have different colors for you to choose from.
Below are a few transparent dining chairs that we like. In our opinion, they do look good and are selling at a reasonable price range. If you have a small space, these chairs are perfect because they are stackable. The clear look would also make the place seems less cluttered.
Ghost Chairs For Dining Room
This is the 2xhome ghost chairs for dining room. They are suitable for both indoor and outdoor functions. Made from crystal clear transparent polycarbonate which is stronger than acrylic, these chairs are also UV-protected.
They are armless and hence, stackable. The seat is about 14.5″ wide and 15.75″ deep. The height from the floor to the seat is about 18.5″ while the height of the whole chair is 34.75″.
There are other options for the 2xhome ghost chairs. These include bar stools and dining chairs with arms. You also have a choice of clear, black, white and smoke colors for some of these designs.
Clear Dining Chairs With Metal Legs
Compared to the ghost chairs above which are fully transparent, the GreenForest acrylic dining chairs only have transparent seats. The legs are made of metal but painted with wood colors.
The seat is curved for comfort and has a seat height of 16.9″. The width of the seat is 18.3″. The whole chair is 33.5″ tall from the floor to the top of the back rest. The maximum weight limit for this chair is 250 lbs. Rubberised leg tips protect the floor from scratches.
In terms of price, this set is also pretty cheap at less than $200 at the time of writing for 4 chairs. Most transparent dining chairs will cost you over $200 for a 4-piece set.
Transparent Dining Chairs With Arms
The Modway Casper transparent dining chairs with arms are much more convenient than the 2 designs above because they don't require assembly. These are injection moulded chairs made of sturdy polycarbonate. Although they have armrests, the chairs are still stackable.
The seat height is 18.5″ while the armrest height is 26″. Sturdy and durable, you can use it both indoors and outdoors. It is also available in various colors. If you don't like the clear transparent look, there is red, pink, white, black, smoke and blue to give you more options for decor.
Should You Buy Transparent Chairs?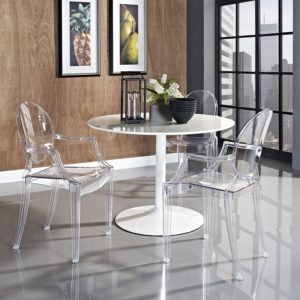 Why should you choose transparent chairs over the normal dining chairs?
Firstly, they are trendy. If you like modern decor, they are usually a perfect fit. This is because the clear design makes it easy to match the chairs with other furniture pieces.
Secondly, they are versatile. You can use them for your dining room or take them outside for pool parties. Because they are made of polycarbonate, you don't have to worry about them getting wet if it rains.
Thirdly, these chairs are normally stackable. This makes it easy to move them from one place to another. You just stack a few up and carry them to the new spot. Apart from that, being stackable also means you can free up some space in the room if need be.
Fourthly, they are a conversation starter. If you have a novelty item in your home such as an unusual table lamp and color changing lights, guests that come visiting will definitely be drawn to it and offer their compliments. The transparent chair set is one such item.
Lastly, a clear chair will make your home feels less cluttered. A normal chair can seem bulky when put in a small space but a transparent one may give an illusion of more space.
So, fancy a ghost chair for your home?