Kids don't understand things like germs and bacteria. They only understand fun and play. So, it can take a lot of patience to get them to wash their hands and be mindful of personal hygiene. After all, they are prone to throwing tantrums, especially when they are tired after an outing. But you do need to get them to wash their hands after coming back from the playground as well as before eating. So, are there ways to encourage hand washing for preschoolers and make them do it freely without the need to raise your voice and risk another meltdown?
Well, you can try to make things as fun as possible at the sink. Below are a few ideas to get you started:
Hand Washing For Preschoolers – The Fun Items
Faucet Extender
A faucet extender is not only a fun gadget to have at the sink but also very practical.
Most often that not, little kids have to stand on tip toe and stretch in order to reach the running water in the sink. This makes it difficult for them to wash their hands unless, of course, you get them to stand on a step stool. But you may not need a stool, if you have a faucet extender for kids.
This is a practical item that you should have if you have a toddler or preschooler at home. The reasons being:
Fun and colorful
Cheap
Simple installation
Fits most faucets
Hand washing made easy for the kids
So, what does this faucet extender look like? Let's take a look: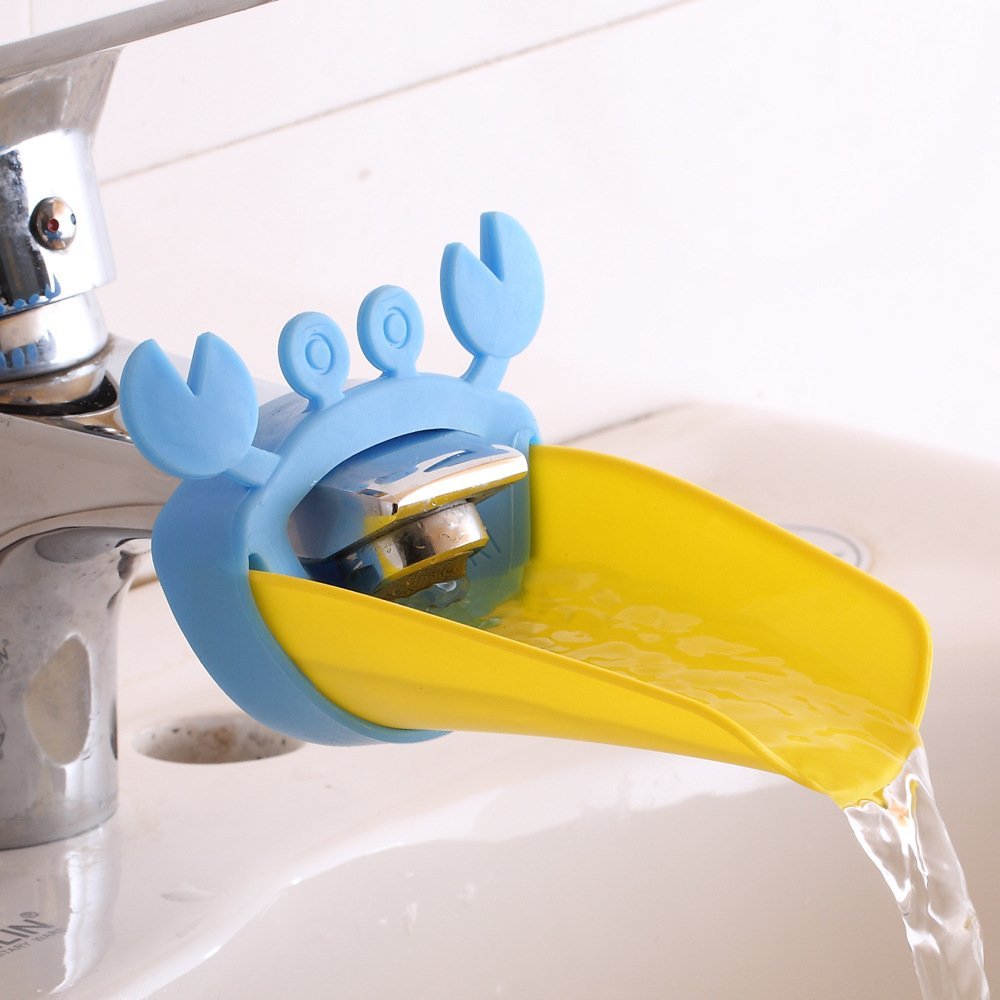 As you can see, it is a cute item. Apart from a crab, you can get it in the form of an elephant, frog, duck and other animals that little kids can identify with. With water following out from the mouth of these "animals", it can become something exciting for preschoolers.
Foaming Hand Wash
Instead of buying a bar of soap or a standard bottle of hand wash liquid, get the foaming types. Kids love playing with foams and bubbles. So, take advantage of it and make hand washing fun for your preschooler.
While squeezing foam onto their hands is definitely more exciting than using a bar of soap, the opinion will change if the soap bar is stuffed with a toy. However, the drawback is soap bars with a toy tend to be a little expensive compared to the normal ones. Hence, they may not be worth buying in the long run.
There is also another variation to this type of soap bar and that is, instead of a toy, the soap is stuffed with money right in the middle. So, you need to use the soap until you reach the core to retrieve the money which generally is merely a $1 note. However, this would work better for older kids or as a gag gift for adults rather than preschoolers.
Soap Dispenser
Find the cutest soap dispenser out there for your kid. Animal is, again, a popular choice although there are other options.
You can pour the liquid soap into the dispenser together and teach them cause and effect as you press down on the pump to dispense the hand wash liquid. These soap dispensers will be a cute addition to any bathroom apart from being a fun item for a preschooler.
The other soap dispenser that kids love would be the automatic types. Place your hand underneath the sensor and the soap dispenses. Preschoolers will love to make the soap come out. The other good thing is automatic soap dispensers tend to dispense a just right amount for you to wash your hand which can help to minimise wastage.
Cartoon Character Soap
Kids will have their favorite cartoon character. Try to find a soap that features this character and they will be more likely to be cooperative when it comes to hand washing. Soap bottles with Disney characters are easy to find. But you can also get Sesame Street, Spongebob, Spiderman, Minions, Paw Patrol and many others.
Timer
This is a method to get preschoolers to wash their hands properly and not rush through the act. You can put a sand timer near the sink and let your preschooler turn it whenever it is time to wash hands. Watching the sand drop to the bottom would be interesting for them but it is also a way to get them to scrub their hands until the timer is up.
You can get an electronic timer specifically for hand washing for preschoolers. As you do this each time, the 20-second rule will become a habit and their hands will get a proper scrub every time.